— I know that you will negotiate with any client. What is the secret?
— It is an exaggeration! But of course clients have to be "led". It seems that they have paid us money, and we expect them to actively interact. But it may not be.
It is great when the two work in tandem - if a customer slows down, I start to slow him down, if I slow down, the customers rush in. But clients are often busy. So it's exactly my concern to keep things moving, it's in the common interest.
I choose the time for the sketches as the idea matures, and by the inner readiness to portray it. I allocate several hours in a row, then I switch back to doing smaller things.
— How do these different images emerge?
— It depends on what kind of request a person comes in with. When I think about the task, see the architecture of the house, the environment, the way of life, I often understand that the person lives in harmony with this, and all they need is a little help to harmonize, spruce up, and refresh the image of the house.
Sometimes you need to create an image in which to live in a new way. If you like something in your travels, you bring this idea with you, bring it to the designer, and then a new one is born. It's a good case where design comes through reflection, through a conscious pursuit of beauty and fullness.
Unique images are born after communicating with brave people. In general, I read the collected material, look at the references the client selected, study the surroundings. Then the necessary field appears, interest, curiosity and desire to surprise.
— Can personal preferences in design get in the way?
— It can get in the way of hearing the client, especially if you don't tune in to the desire to hear.
But creative interaction is an opportunity to get to know the other, to understand and maintain a dialogue, to share. It happens that on the whole, everything is accepted, but we don't like the little things. Then we work together to painstakingly work out the details.
It is more difficult when it is the opposite. Fortunately such discrepancies are rare.
— Does the team help or hurt?
— Of course the team helps me, we`ve been working together for a long time. I even feel relieved to have them by my side and the process becomes easier. In recent years, all the interaction has become so refined that there is no resistance in vain. Of course there are mistakes due to inattention, but no one is immune from this and they can easily be corrected.
— Do you quarrel with clients?
— I think I'm a soft person, but I try to be consistent and report all misunderstandings and inconveniences on time. Although it's hard for me to express myself that way, time has shown that it's necessary. Misunderstandings are the result of miscommunication. I like to listen to my clients, to involve them in the creative process where all ideas are possible. Everything is under my close supervision; if something goes wrong, I'll tell you.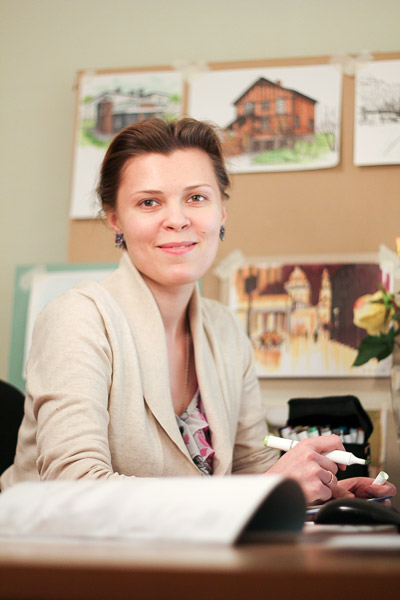 — What inspires you?
— Most of all I am inspired by the opportunity to change something for the better, to renovate, to give a second life, to reconcile home and host.
Of course I enjoy creative people who love their homes and are open to new things, and I love it when my ideas are welcomed. I exult when clients are thrilled with the results and love what they see; I am very grateful to them!
I love modern architects, amazing illustrators like Andrea Prandini (what a watercolor presentation and abundance of ideas!), Michelle Morelan with her lightness and brevity, and others who draw a modern image of a house inside and outside, breathing life into it, bringing comfort and spontaneity.
— Special hobbies, hobbies?
— Sketching, aikido, tango. Tango has been taking over my priorities lately. Apparently all in good time.
— What would change in the city?
— I would create an environment to form social connections. Low-rise buildings, even 6-8 stories, but always on different levels. I consider it a crime to have 20-storey conglomerates where you don't know or want to know anyone. The buildings should form their own circle, with courtyards, safe playgrounds, cafes, jogging and cycling paths.
— Do our customers have fears?
— It's hard to answer that right off the bat.
If there is distrust, it goes away during work. If there's a fear that they won't paint what they like, it's more a fear of opening up, of talking about yourself. Or the area is still unknown and the client doesn't know what he wants.
I advise to look for pictures, ideas. We have a wide range of images on our website. Select, without thinking too much, the ones you like, and when there are a lot of them, you can see the leading themes. Then include the constraints, as there usually are. These are the existing volume of the house, its constitution, wishes or concerns about materials. After such a filter, you are left with a good squeeze of ideas with which you can already work!
Interviewed by Alexey Vatavu