Facade decors.
Big classification of production methods
13.09.2023 | UP-TO-DATE INFORMATION
If you try to buy facade decor, it's easy to get confused. The technologies are similar, but different. Manufacturers use their own names, behind which it is difficult to understand what is on offer.
We have long parsed the decors, fiddled with them in our hands, checked the information, met with manufacturers, used them in projects, observed the installation and operation. It's time to systematize our knowledge and experience.
This is a tried and true, up-to-date classification of how decors are made and their significant advantages and disadvantages. If you have more precise or additional information, please write us a letter.
CLASSIFICATION
Typing decors in one way is not enough, and a multi-dimensional comparative table does not explain much. So let's make a few simple groupings that will teach you how to understand the differences, and then consider each technique separately.
Long profiles
Cornices, platbands, pilasters, columns.
Radius elements
Arches, rotundas, curved railings and parapets.
Small individual decors
Cantilevers, balusters, bosses, keystones.
Piece complex decors
Coats of arms, panels, sculptures, mascarons.
Type of mold influences the optimal choice of production technology. Some methods are limited in types of forms. The size of the decor is also important. Large buildings often require huge elements.
SPRAYING
(shotcrete, broaching)
Acrylic, cement based plaster.
CASTING IN FORM
A variety of concretes, polyurethane foam..
MOULDING OF DECORS FROM BLANKS
EPS workpieces, verolite, wood, stone.
LAYER-BY-LAYER GLUING
Fiberglass plastic.
SEMI-DRY PRESSING
Ceramics, cast stone.
BENDING AND EMBOSSING
Metal.
Vibrocasting - when using a liquid mixture. The mold is placed on a vibrating table so that air bubbles come out of the mixture.
Vibrocompression (vibro-compaction, ramming) - when using semi-dry mixture. The mixture is rammed inside the mold with a pneumatic hammer. This technology was made possible through the use of plasticizers, improving the mobility of the mixture.
According to the degree of load
Maintainable decor
Balustrades, railings, door portals.
Non-exploited
Window surrounds, cornices at height.
Décor in passageways, around entrance doors, on stairs, on terrace is reasonable to make durable décor. It will have to be cleaned more often and will be exposed to occasional heavy loads. In other places, in order to save money, it is advisable to use cheaper decors. However, you must remember that snow and water can accumulate on the decor, beat hail.
Ultralight
1-3 kg/carpet weight of the eaves.
Light
3-10 kg/pm eaves.
Heavy
10-100 kg/pm eaves.
The weight and required volume of the material becomes especially important as the size of products grows. Heavy decors of large dimensions require mechanization, strong bases and foundations. The weight of the product depends on the weight of the material and the construction.
Only "ultra-light" decors can be fastened without mechanical fastening, on glue. "Light" decors assume combined fastening. And "heavy" decors place high demands on the substrate and fasteners.
Thickness of the constructional layer
Full-body
Thick-wall
Thin-wall
The thickness of the layer forming the element does not directly determine either the strength or the weight. However, it is necessary to keep it in mind in order to be clear how to fix the decor.
Accuracy of shapes
Some methods of production allow you to get perfectly clear dimensions, surfaces and edges, while others give a variable result. Inaccuracies in geometric dimensions in practice are common and interfere with the docking of elements, especially in the case of the finished decorative coating.
Based on cements
Architectural stone, fiberglass concrete.
Based on resins
Polymer concrete, acrylic coatings, fiberglass.
Binder, or binding agent, is the substance that binds and holds all the components together through a chemical reaction. The binder and the amount of it affects strength, elasticity, hygroscopicity, and durability. Cements come in different grades. There are even more types of synthetic polymer resins. Cements are cheaper than polymers. Despite the variety of binders within the group of products have similar qualities. Polymers absorb less water and are more elastic, but dry out in the sun and become brittle in frost. Cements are more inert and harder, but susceptible to wetting and less elastic.
Finished decorative layer
To be painted
Even in full-body products, the decorative layer may be only a thin layer on the surface, such products need to be mounted very carefully. If during installation or during use, shuffle the decor, it is a trait "eternal". It is impossible to recreate the factory roughness of the surface without special materials.
If the pigments are distributed throughout the product, it is possible to fit it (sawing, grinding), but even such products often have a thin protective coating.
In a simple version, decors can be painted. Stone, for example, is imitated more intricately with clear sprinkles, etching and polishing. Stones of low density (sandstones, marble) have a surface scattering of light, which cannot be imitated by a thin decorative layer over opaque surfaces. In such cases, thick-walled decors containing stone chips and a transparent binder are used.
Joints between stucco elements
With visible joints.
Stone, stone imitation, metal.
Without joints
The other types, are putty on the wall.
Visible seams between elements can be interpreted positively. After all, this is how the historical buildings of classical architecture with decorations of individual stones look. The legibility of the individual fragments of "stone" decor is one of the signs of its aristocratism.
Manufacturers offer putty and grout for masking conjunctions and fixing holes in the fragments of the decor, similar in quality to the basic material of the coating. In addition, the decor can be painted, completely hiding the joints.
PPS DECORS + UNREINFORCED COATING
(EPS, foam plastic, broach)
Ultra-light decors, least resistant to mechanical stress. Can be successfully used at height, for example as eaves and cantilevers under the roof where they cannot be seen up close, no mechanical loads or rain.
CNC milled or hot wire cut blanks of 15F-20F facade polystyrene foam blocks.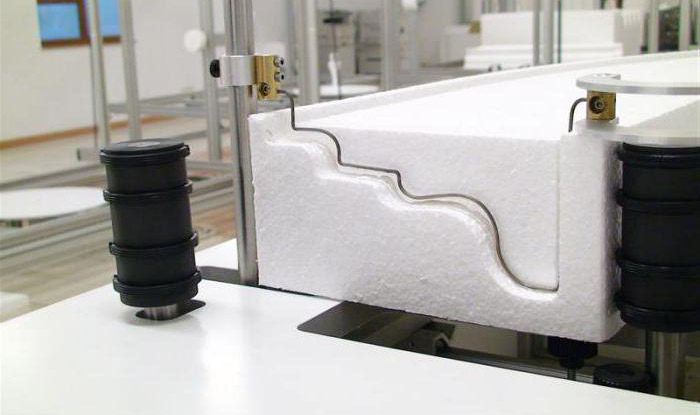 There are several types of coatings in this group of decors::
Acrylic (mastic) (1-6 mm)

The binder is styrene-acrylic dispersion. Within this technology, both the thickness of the coating and the ratio of expensive acrylic and filler can vary. This significantly affects the elasticity/fragility of the product. However, flexible at the time of production, these coatings lose elasticity fairly quickly due to the continuing polymerization process accelerated by heat in the sun. Also, acrylic becomes brittle when it freezes.

The filler quartz flour has a beige color. Decors of this type have somewhat smoothed edges and corners.
Marble flour (calcite) filler has a white color. This type of filler allows you to grind the decors if necessary, making the corners and surface clear.

Cement-based (7-20 mm)

A cement finish is more inert and less damaged by wetting and freezing compared to an acrylic finish. However, cement is more brittle, so it requires a thicker coat and mixing with polymer dispersions to increase elasticity. Thin glass fibers may also be mixed into the mix for micro reinforcement.

Gray Portland cement and silica sand. Gray cement may be stronger
White Portland cement and marble sand. This kind of décor is easier to paint in light colors and can be sanded.
The coating is sprayed or pulled through the tub with the mortar and should fully, up to the base, set, especially on the long decors subject to bending during transportation and installation. It is also required that the polystyrene foam stand before cutting (by standard, at least 14 days), because the fresh polymer shrinks. Increased density foam is better to keep the shape of the bend at installation, and it is harder, which may be important for light mechanical stress during operation.
You should pay attention to the proportion of coverage in the volume of the product. In a flat cornice this will be a significant proportion, and in a large decoration - a small one. Therefore, it is better not to make elements of large cross-section with a thin coating, because it will not withstand expansions of EPS.
Decors on the EPS with a thin coating, it is undesirable to paint in a dark color - in the sun a thin layer of coating on the thermal insulator is destroyed faster from overheating.
Such decor is primed and painted on the facade with elastic polymeric paint: acrylic or silicone.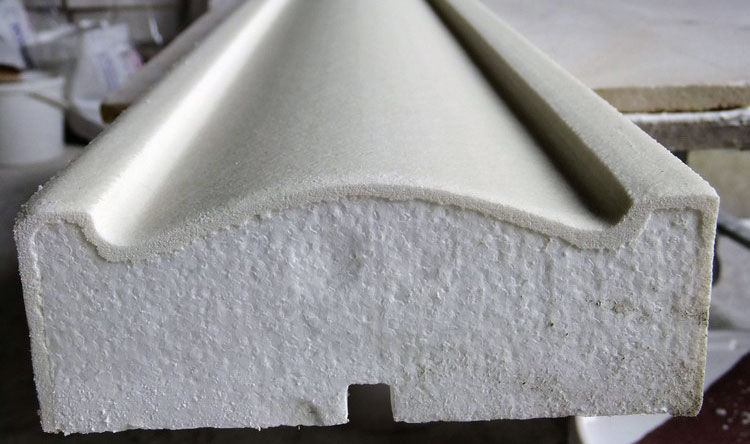 DECORS ROCK WOOL + CEMENT COATING
Such decors differ from EPS decors by the material of the blank and when using a cement coating does not burn, so it can be used in regulated construction. Another peculiarity is the vapor permeability, provided that they are coated with silicone paint.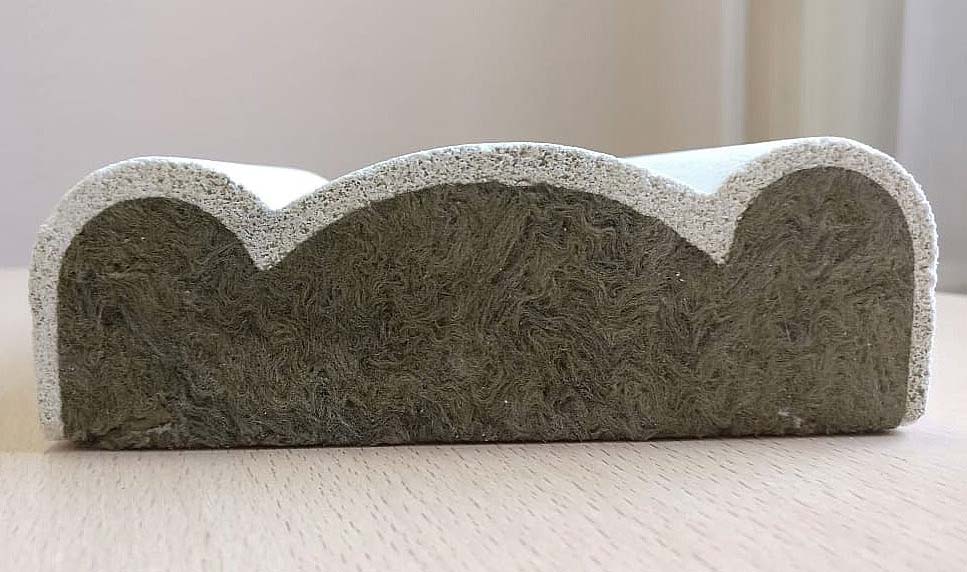 ДPPS DECORS + REINFORCED POLYMER-CEMENT COATINGS
Ultra-light decors in a simple form, which can be produced both in the workshop and at the building site. Applicable in areas of low stress, preferably outside contact areas.
CNC milled or hot-jet cut blanks of facade polystyrene foam blocks 15F-20F.
Coating - cement-polymer composition with reinforcement alkali-resistant architectural or facade glass mesh. The coating layer of 4-7 mm. It is better when the mesh is sunk into a pre-applied layer of adhesive mixture, rather than separating the CBC and coating (there are both variants).
Manufacturing coating in the machine shop
Manufacturing in the machine shop allows you to do the work accurately, to ensure the correct setting conditions of the coating, to carry out a careful control. The staff in the workshop has daily production experience. Ready-made decors speed up installation on the facade, but there is a disadvantage - when joining the elements formed joints, which should be sealed in a separate operation with the architectural grid. In the moldings at the edges may leave the mesh without coating, so that it is applied to the joints when mounted on the wall.
Decors are grinded in the shop and may be coated with additional compounds for easy painting or texture.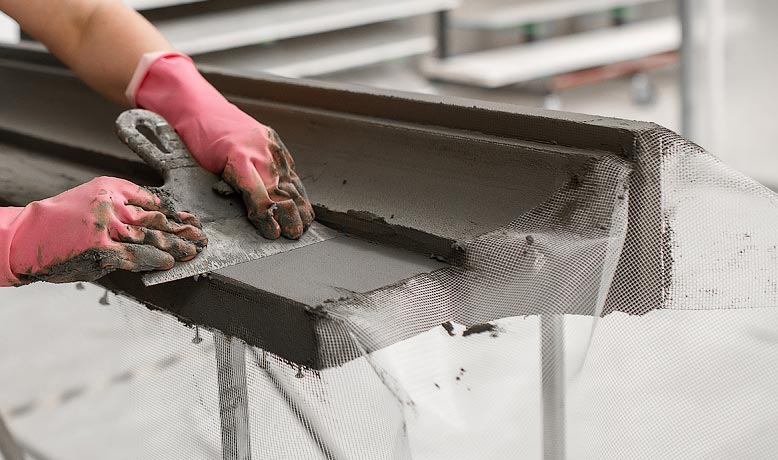 Coating during installation
During facade plastering it is possible to make decors of simple forms, for example, a floor band, window framing - they take separate pieces of EPS made beforehand or cut out on site, put them on the wall and after that cover them with a continuous layer of plaster-glue mixture with a facade grid. At the same time the mesh is overlapping on the wall.
An important advantage of this method is the elimination of seams with the wall and between the pieces of blanks, with a structurally homogeneous reinforced coating. This protects well against moisture penetration and has a positive effect on durability. However, not all situations allow for this method. You need a suitable wall finish pie; the decors should be relatively simple. Weather conditions, arrangement and protection of scaffolding, location on the facade, qualification of workers - all this affects the quality of the resulting coating.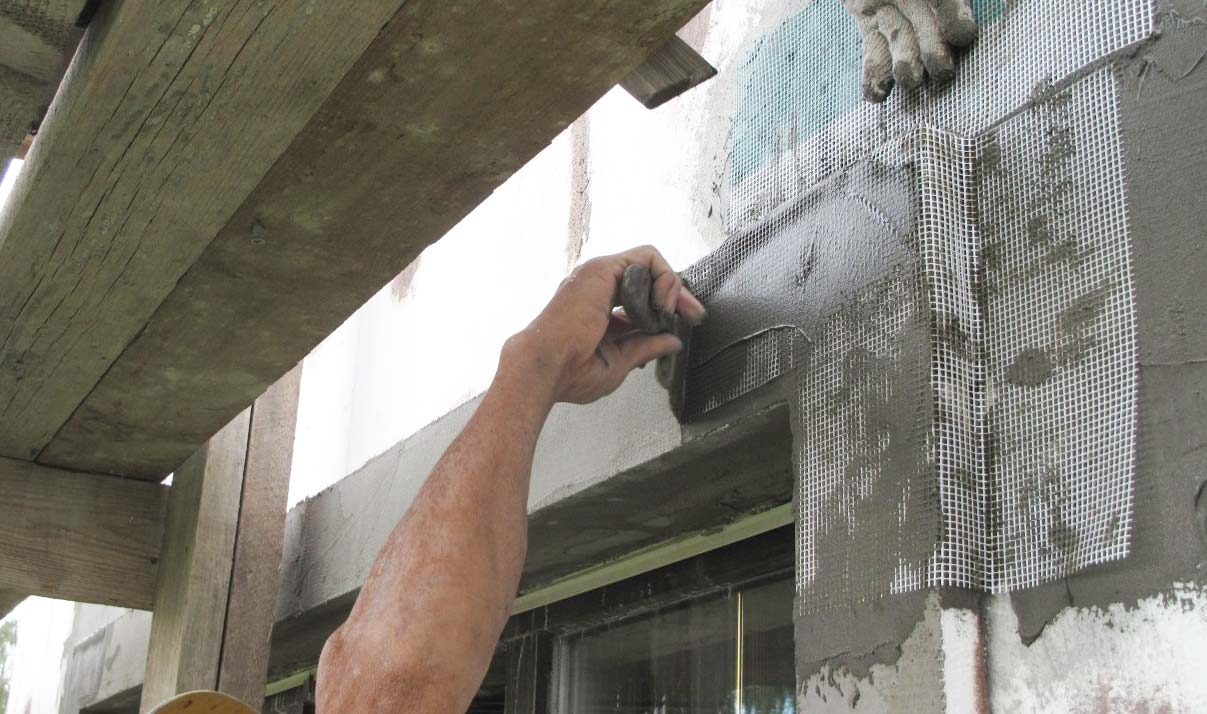 Decors must be painted or plastered after installation. Billet of facade EPS is flammable (G3), cement-polymer coating is low-flammable (G1), like plaster on the facade.
STUCCO DECORS
With a small thickness of the simplest geometric decorative frames and ledges, on facades without insulation, the use of substrates of EPS is not justified.
Belts and rustics of small thickness (20-40 mm) can be made on the wall with a lightweight reinforced plaster mixture. Alkali-resistant mesh allows you to further increase the thickness of the plaster layer in several steps. And fiberglass corners and plastering on the beams allows you to get a good geometry of the protrusions.
However, thick plaster tends to crack due to shrinkage, so you need to use special mixes for thick layers.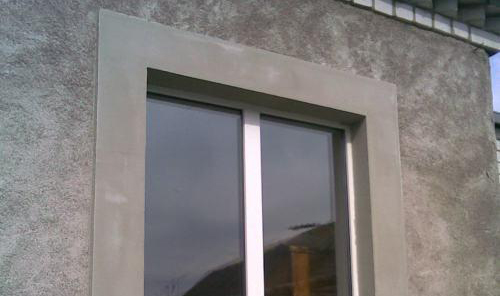 Polyurethane foam (FPU) decors
Ultra lightweight full and hollow decors that raise questions when used on the façade. Applicable for freestanding detailed elements such as rosettes, coats of arms, cantilevers out of reach.
Polyurethane foam changes significantly in size from outdoor temperature fluctuations, as well as long-term "drying" in the sun and air.
To prevent shrinkage of the linear elements, manufacturers require special installation. First, install the elements sporadically, so that they are prestressed at the time of installation. Secondly, in addition to the glue, fasten with hardware and only in a solid base. Therefore, installation on the facade with insulation requires embedded parts (inserts instead of insulation), metal plates or corners, as well as brackets at the joints of elements. Some manufacturers recommend replacing part of the embedded parts through the insulation in the wall. The joints should be glued with a special "joining" glue. When simply mounted on the glue, within 2 years you can find the expanding joints between the jointed elements.
Requires painting with particularly elastic reinforced paints.
FPU is flammable (G2-G3 depending on flame retardants).
Polyurethane is an expensive polymer, and for use on the facade it must be made more dense than in the interior (300 kg/m3). Molds for casting FPU is difficult to produce: it must be closed and can withstand pressure. All this leads to a tangible cost, especially when ordering individual products.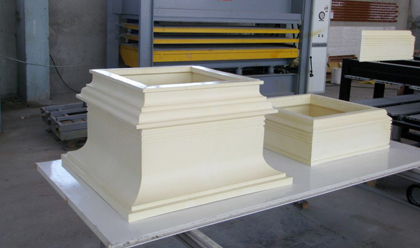 CEMENT CONCRETE DECORS
(architectural concrete*, reconstituted stone, cast stone, arch stone, arch concrete, decorative concrete, VDT)
These are full-bodied cement-bonded concrete decors in demand in areas of high contact load and passability.
The binder is white Portland cement. Fillers fine silica sand and plasticizers to tamp the semi-dry mass. Do not make the mortar liquid, in order to avoid shrinkage and cracks in the finished product.
The quality is affected by the brand of cement, quality and moisture content of sand and aggregate, the ratio of water and plasticizer, the quality of vibrocompression and drying with steaming.
The product is obtained by casting with the vibration of the form.
Features to consider: an increased load on the foundation if the decor is bulky; for soft walls chimney, installation, with mechanization. Do not make particularly large elements, because they will prove to be super heavy, and with high internal stress.
Cement products have water absorption; they get wet.
*Architectural concrete, arch concrete, artificial stone are now very general terms that can imply all kinds of "decorative" concrete, on any binder. However, before the term was used to refer to the material of cement concrete with decorative properties, without fiber reinforcement, it is this technology appeared first and is still used today.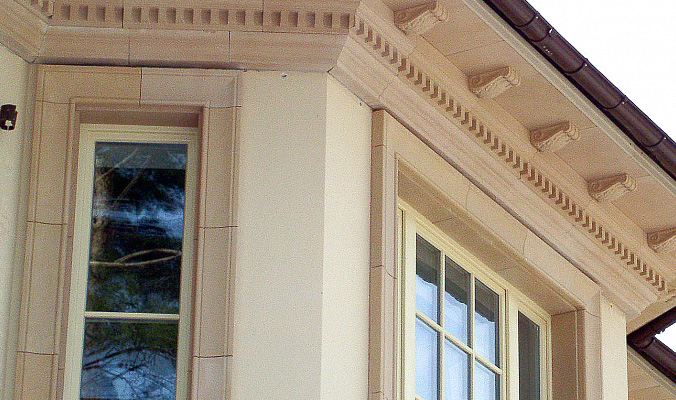 FIBERGLASS CONCRETE DECORS (FIBERGLASS CONCRETE, FIBERGLASS CONCRETE, GRC, GFRC)
This is a hollow and therefore lightweight concrete decors without large fractions, dispersedly reinforced with glass fibers. It is in demand in areas of moderate contact use.
Binder - cement, fillers - quartz sand of fine fraction. Plasticizers, to reduce the water-cement ratio. To increase the viscosity, and to prevent shrinkage in the concrete is mixed thin chopped alkali-resistant glass fiber (fiberglass), or basalt fiber.
Fiberglass concrete, in contrast to the cement concrete decors, allows you to make products large area at a small thickness, for example, flat panels or shells for columns and pillars, long elements of the cornices at a small thickness.
In hollow decors wall thickness is 10-40 mm. It can be painted in mass and then does not require painting.
Hollow decors are produced by spraying on a matrix (pneumatic spraying). The first (outer) layer without fibers, then with fibers. The applied mass is rolled, compacted by rollers. The product can be steamed at high temperature and humidity, or chemical additives can be used instead. After curing, the surface is grinded and can be covered with a decorative layer.
Fiberglass concrete is much more resilient than conventional cement concrete, so it is possible to make hollow shell products. Such hollow SFB-decors are lighter than cement concrete ones, but small and confined products, are produced by casting with vibration (premixing), and they are just as full-bodied, without much difference in weight.
Glass fiber concrete, although less than arch concrete, but still gets wet, so it must be protected: cover the tides, hydrophobize or paint with water-repellent paints.
Does not combust (class HG).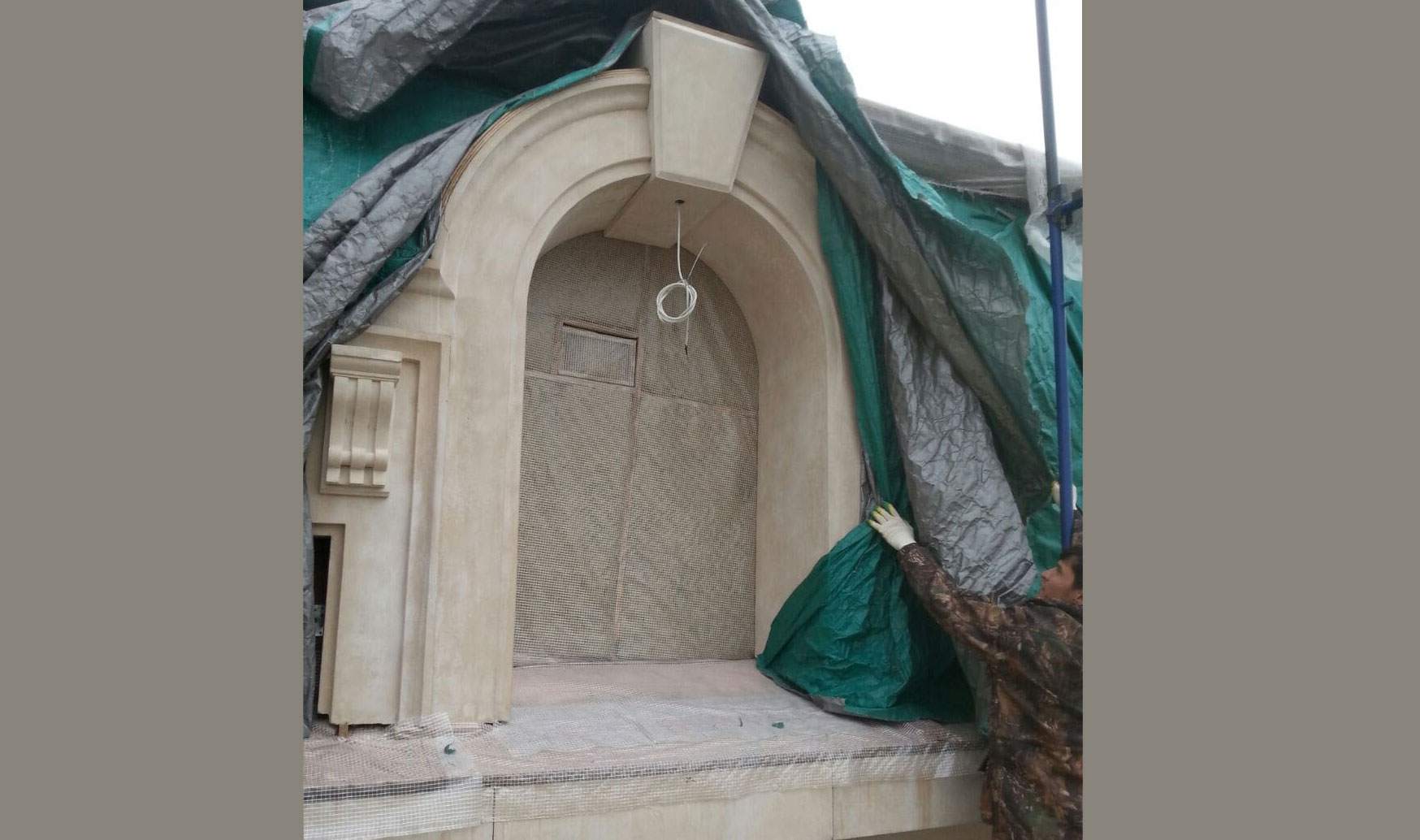 Decorations "like travertine" or sandstone are made almost by any technology. It can be a mixture of natural stone crumbs and pigments mixed in a mass, or a coating on thin-walled decors.
POLYMER CONCRETE DECORS
(agglomerate, concrete-polymer, plastic concrete)
These are cementless, non-wetting decors on a polymer binder, with the possibility of clear edges and fine detailing. They can be:
as hollow shells 7-30 mm;
as shells on top of 7-10 mm EPS inserts;
full-body (rarely found on the facades);
Binder - can be epoxy resin, polyester resin, furan resin (the most mass variant); Fillers: large fraction - stone chips (each manufacturer has its own composition: dolomite, quartz, marble, sandstone, limestone), sand, polyethylene granules. The fine fraction - flour quartz, andesite, graphite.
There are manufacturers who reinforce the hollow decors with glass fleece, it allows you to make the walls of the product thinner and save expensive polymers. Such reinforcement is similar to the technology of fiberglass decors.
An important property of polymer concrete is that it does not get wet, as it does not contain cement.
However, it is susceptible to UV radiation. Resins have the properties to dry out and deform after years in the sun, so it is important what will be the outer protective layer of the element.
The outer layer is pre-applied to the matrix. This is the so-called gelcoat (gelcoat), also polymer based, mixed with a significant amount of filler. It determines the surface of the product: color, relief, abrasion, UV protection, flammability, dirtiness.
Gelcoat composition can be simple for painting on site, or ready-made, decorative with fillers, to imitate stone. Some types of ready-made coatings are relatively easily damaged during installation or contact use - if you rub such a coating, it will be noticeable.
Polymer concrete, unlike cement concrete, flammable material (G1).
There are products of mixed concrete, when the basic cement binder is added to a small amount of polymer resins or plasticizers, such a product we do not relate to the polymer concretes in our classification.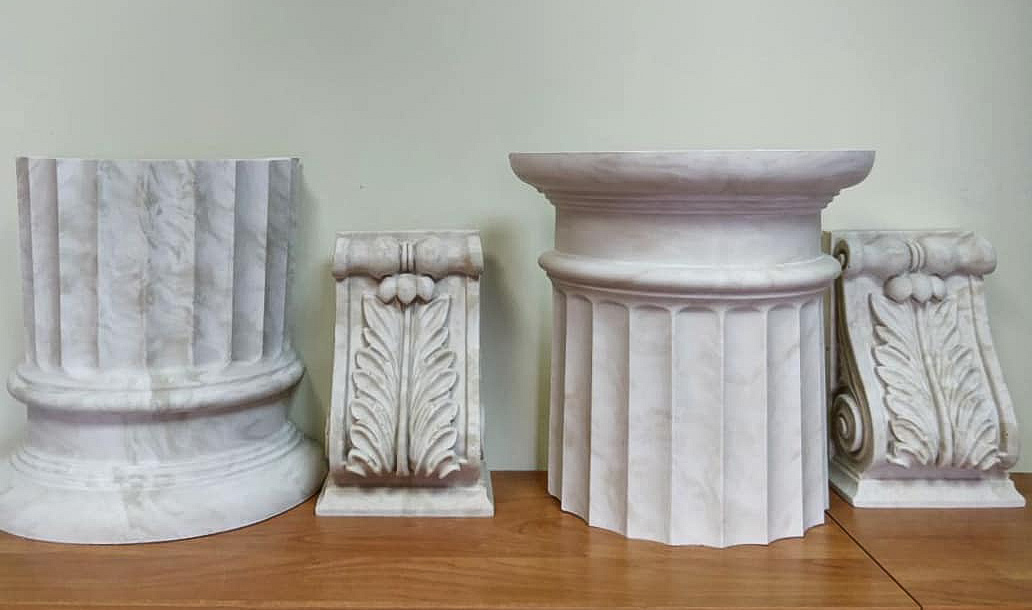 Perlite concrete
(verophile granulate, verolite)
Milled lightweight full-body decors for on-site painting. They are characterized by high geometric accuracy and clarity of edges.
Binder - polymer, filler - light expanded volcanic rock - perlite (aluminosilicate microspheres). Despite the fact that the binder is polymer, we consider this type of decor separately, because the production method is fundamentally different: the elements are milled out of blanks by computer milling. Billet material cannot be obtained manually by mixing components, as in conventional polymer concrete. Industrial equipment creating pressure and temperature is required.
A special property of the material is extremely small temperature deformations in relation to the weight and resilience of the product. So that small full-body decors can be glued even on insulated facades.
Due to milling it is possible to make elements with cavities, but in this case the efficiency of the material decreases in comparison to other technologies, since the material consumption and the price of the product is not reduced by it.
At the site, the decors need to be primed and covered with an intermediate coating before the final coloring.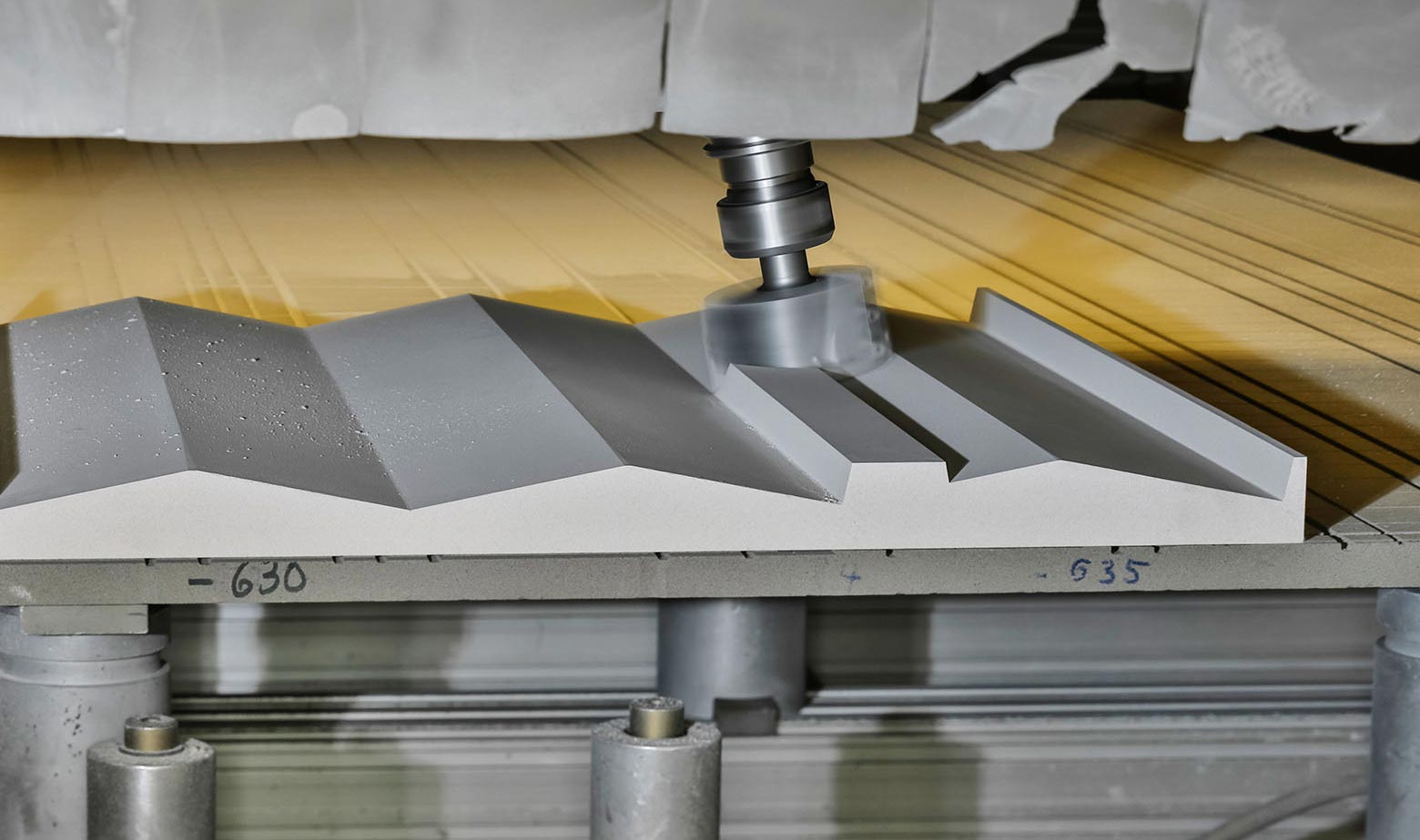 Experiments with aerated concrete
Some workshops are trying to cut out on CNC machines facade decors from aerated concrete with a density of 500-600 kg/m3. Commercial use of such production has not yet received, there is a test operation on the stands, the comprehension of the experience, the search for coating options and places of application. In Japan, pro aerated concrete panels are manufactured with a decorative relief of thickness from 30 to 150 mm. The disadvantages of decor from autoclaved aerated concrete are brittleness of thin parts and hygroscopicity. Positive qualities - vapor permeability, geometric accuracy due to milling. It is likely that such decors can be successfully applied in large overlapping planes of porous facades, in impact-free areas.
FIBERGLASS DECORS
(fiberglass composite, fiberglass, GRP, GRP)
These are ultra-light thin-walled decors, especially in demand when creating large and huge elements of human height or more. Small confined fiberglass shapes are rarely made.
Fiberglass is formed on the principle of papier-mâché - several layers of resin and fiberglass cloth (2-4 layers, depends on the size) are placed alternately on the matrix. The form is pre-sprayed with release wax (to separate the form) and gelcoat. Gelcoat will be the front surface of the decorative element.
At the stage of creation of such decors, embedded details and frameworks are integrated for installation on the facade.
Fiberglass decors have the highest surface to thickness ratio. The key advantage of the technology is the possibility to produce large, curved and very thin decors without any complex load-shedding subsystems. The lack of fasteners is compensated for by the high elasticity of the material.
Small pieces can be made by spraying a mixture of chopped fiberglass and resin, but they are less durable and heavier.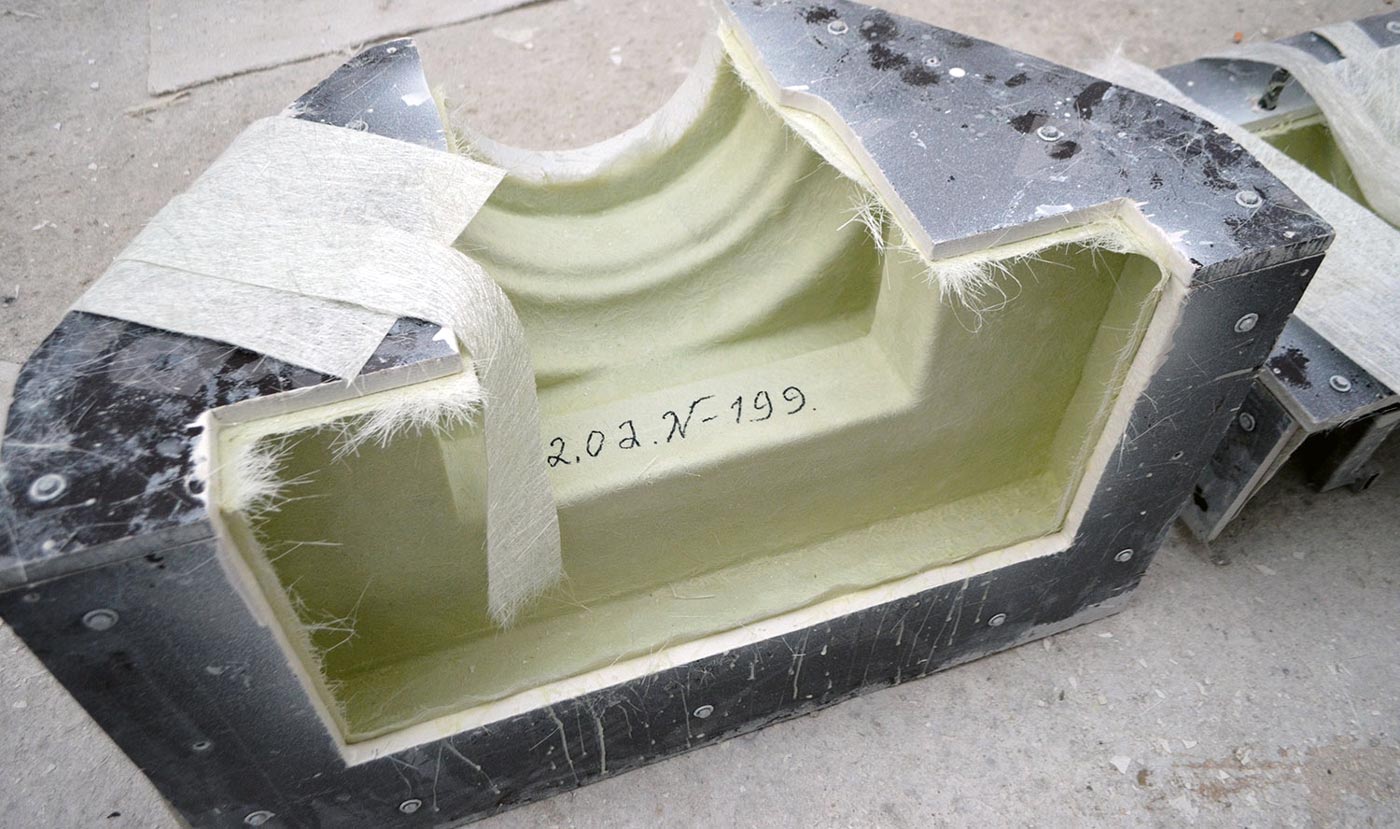 WOOD DECORS
Lightweight decors in private construction from simple framing to shaped carvings. More often used in conjunction with wooden wall trim.
Wood décor can be applied with natural texture or dyed.
Native styles for wood are half-timbered, chalet, wooden manor, log cabin, Victorian (stained wood).
Wooden décor without protection is short-lived, and requires constant maintenance - treatment with protective compounds every 2-4 years. Repainting involves removing old coatings.
It is good if heat-treated dried larch is used.
A small class of decors from wood-polymer composite (WPC) can be attributed to wooden decors, for example balusters from WPC or simple window frames are made.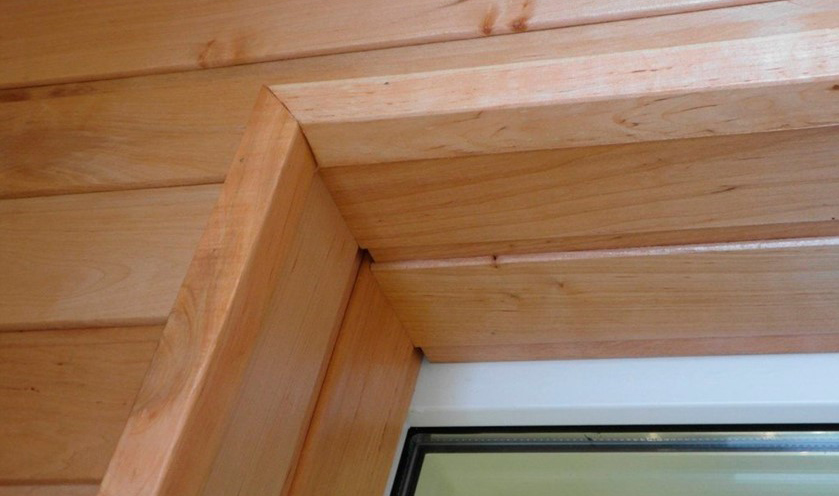 VINYL DECORS
(PVC, Polyvinyl, PCV)
Solid vinyl decors are popular in American country houses, are also available in Russia. The surface can be smooth or imitate the texture of stained wood. Such decors are well suited for ventilated movable facades, when the finish is attached by means of hardware. Such decors are attached without glue and can withstand continuous movements.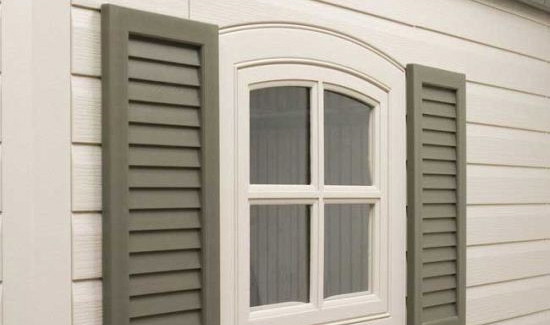 METAL DECORS
Steel sheet decors for curtain wall façades: from standard ones, hiding the ends of the sub-system, to custom-made solutions for large buildings.
Manufactured by rolling, stamping and embossing.
Metal is needed when it is necessary to maintain mobility and glueless fastening of the decor, i.e. most often on ventilated facades.
Metal decor can have both smooth and decorative coating, such as wood like metal siding. Particular smoothness of products makes it organic coloring with metallic paints in aluminum, copper, bronze.
Metal is prone to corrosion, with wear or low quality galvanizing and protective coating.
Metal on large buildings is competed by fiberglass decors, which are attached to the tabs in the decor, but they are slightly more fire-prone.
Rare metals and alloys of zinc, titanium, copper are found in exclusive projects.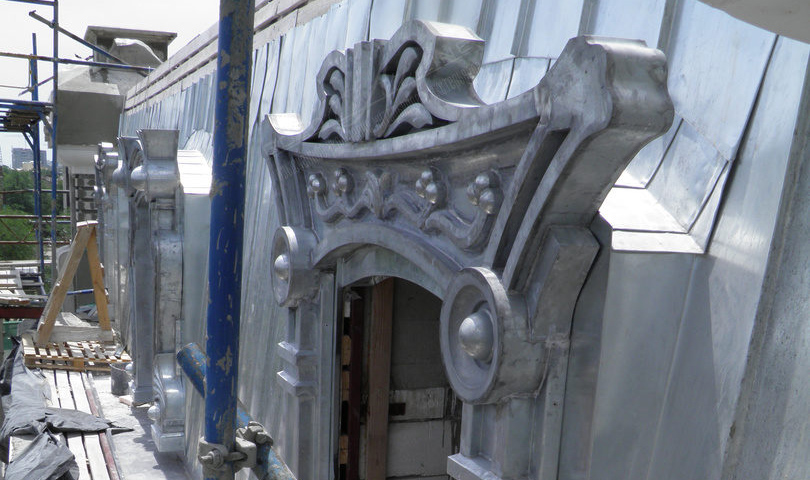 STONE DECORS
Heavy hewn decors of natural stone of different species.
Since ancient times used in iconic grandiose public buildings. Limestone, marble, lime tuff, trachyte, gneiss, breccia, granite were used. Modern mechanization has brought stone decors closer to private builders as well, especially those living close to mining sites.
Decorations made of natural stone by modern standards have disadvantages - the complexity of mass production, large weight, complexity of installation, wetting.
Dense types of stone can be polished, giving them a completely different look.
Porous types of stone can tarnish in humid cold climates.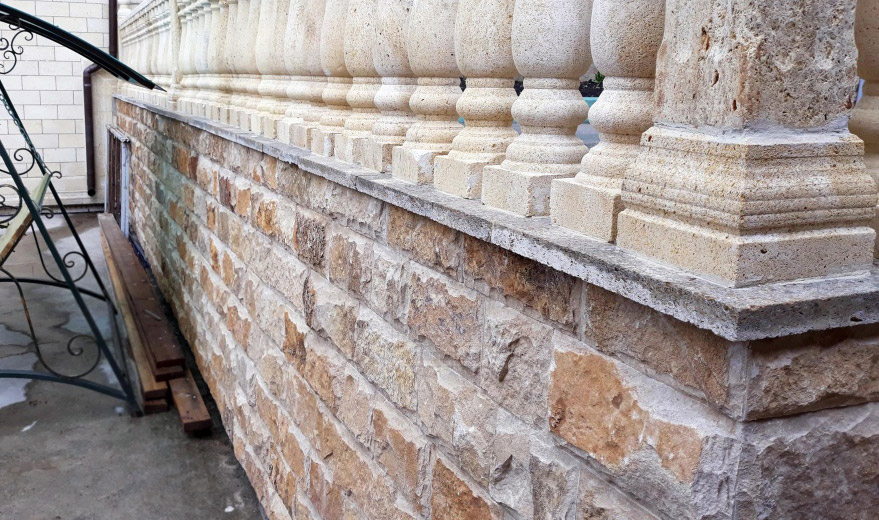 CERAMIC DÉCOR
(fireclay, chamotte, clay, clinker)
Relatively heavy decors made of fired clay of various shades. Suitable for use on facades which allow for a rustic and "handmade" look. Clinker bricks and ceramic decors with the same finish can be well combined.
Fireclay decors in the 20th century was ordered mainly by the state to decorate buildings of the main city streets.
Ceramic decors can be coated with a glass glaze of bright colors. There are also metallized facade ceramics. Rare ceramic stucco should be distinguished from the more common ceramic tiles, tiles and majolica on the facade.
The quality of the product depends on the composition of clay, compaction, drying, temperature and firing time, and coating. Therefore, it is difficult to isolate the general qualities of the group, they depend on the workshop.
The disadvantage of decors from low-temperature clay is hygroscopicity - unprotected products are polluted with dust and badly washed off by rain, moldy and overgrown with algae. Clinker décor varies in geometric accuracy because the clay melts and deforms during high-temperature firing.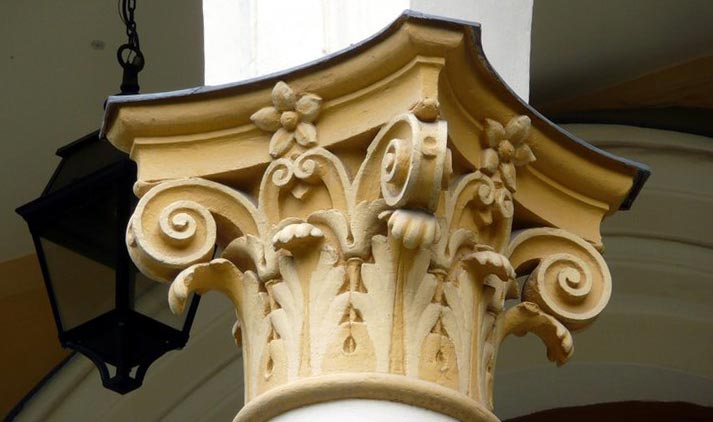 Ceramic metallized decor (gold capitals)
Reveal a bit of detail
Gypsum was a previous, before modern, mass-produced facade decoration technology. Now gypsum, is an interior material, it can no longer compete with other facade technologies.
However, occasionally gypsum decors are used on facades to restore historically significant buildings in order to preserve the historical homogeneity of materials.
In order not to soak and not to creep gypsum requires additives and coatings. They use gypsum GVVS-16 reinforced fiberglass, hydrophobic impregnations and coatings, paint the surface.
What destroys decors
Sun, precipitation, frost, wind, air (oxidizer), plant spores (fungus, algae) - slow natural forces acting on the facade. Each type of decor has its own damage from them: delamination, shrinkage, contamination, corrosion, decay, fading, brittleness.
Decors in the area accessible to people can be damaged during normal use and during construction in progress. Bumps, abrasions and contamination often happen to decors around doorways when building materials, equipment and furniture are brought in carelessly. At such times, it is advisable to cover the decors with temporary protection.
Vapour barrier
Most decors mounted on a stucco facade do not allow steam to pass through. This should be taken into account when designing the finish to avoid trouble. For example, in decors based on thin acrylic-coated billets, conditions may arise for moisture accumulation in winter. This requires heated wet rooms, porous wall material (e.g. aerated concrete) and prolonged frost. In this case, moist air from the rooms will reach the vapor-proof acrylic layer and destroy it.
Protecting decors
Slope
The upper shelves of cornices and framing should be sloped to divert precipitation. You may encounter projects where, instead of profiles with a slope, under-roof eaves without a slope are mistakenly used.
Metal drip mouldings
Horizontal elements of vulnerable (wet) materials must be covered with metal drip mouldings. If the roof of the house has significant overhangs and the decors are installed at a height close to them, you can do without the low tides. Facade sealant, which is used between the wall and many types of finished decor, over the years will dry out and crack, allowing water to pass through. It will last longer if sheltered from the sun's rays with a drip moulding.
Drains
Drippers can be provided at the bottom of horizontal stucco elements to prevent rain and melt water from wetting the bottom of the decor and mounting seam and not leave dirty dusty drips on the walls.
Waterproofing
You can coat the surfaces of porous mineral materials and wood with water-repellent impregnations (usually organosilicon) to make the surface less wettable and less dirty. The hydrophobizer for facades must be alkali-resistant, not to change the color of the surface after drying and not to make it shiny. However, hydrophobization does not work on horizontal surfaces, where there is prolonged contact with water or snow. Therefore, you must use low tides or non-wetting types of décor.
FREQUENT QUESTIONS
How to fix the decors
Light decors can be attached to a relatively weak substrate, such as a base plaster layer over insulation.
For medium and heavy decors, a combination of adhesive and mechanical fastening is used. Mechanical fastening is dowels, z-profiles, consoles. It is especially important to guarantee reliability of fastening of decors over pass-through areas, where people often pass or rest.
Is it necessary to glue the decors together?
The adjoining ends of many types of decors (concrete for painting, EPS, PPU) require gluing together with further caulking of the joint.
It is better to seal the seam with a mesh, depending on the type of decor. For example, in the FSP decors, the protective layer is cut off in the joints of elements, 50 mm in each side and this place is restored with a cement-cement mixture with a facade grid.
Drawings and dimensions of the decors
At the stage of facade design it is impossible to specify the exact dimensions of framings, balustrades and other elements, as in the process of alignment of walls and openings, installation of insulation or subsystems, the dimensions of the facade will change.
Therefore projects usually specify the profile drawings and the principle of their location on the façade. The projected dimensions are specified in the project, but are not used for precision manufacturing. In order to obtain products that are accurate to centimeters and millimeters, the decors are either adjusted on site if the technology allows it, or the critical areas of the facade are re-measured when they are ready for the installation of the decors.
For transferring the dimensions of complex and important places, cardboard templates are used in full size, for example for making arched elements.
Which facade decor is better?
Hopefully our classification shows that there is no one perfect technology. A closer look shows that each technology occupies its own niche and exists because of the demand in construction.
The choice depends on the region, the wall pie, the load and the application. Also, budget and available options in the region are always important.
Сhoosing a technology, consider the proportions: the area and thickness of the decor pieces. There is a difference between flat large in the area of the adjoining slabs and small, but far from the plane of the wall elements.
In areas of one house it is reasonable to combine different technologies, depending on the requirements of the operation and budget. You can find a manufacturer that practices two or three manufacturing methods at once to simplify logistics.