Terrace in the country house
A terrace and a veranda are very similar, so they are often confused. However, a veranda and a terrace - it is not the same. Unlike a veranda, a terrace is more often open (or partially open), located on a separate base from the house (on the foundation or without it), with a fence (sometimes without it). A terrace may abut a house, adjoin a house or even stand apart from it. Sometimes terraces are built on several levels. In the first place, it is a place for summer relaxation, while the veranda, in fact, is an extension of the house. That is why the arrangement of the terrace is worth a careful approach, because it suffers more from sunlight, precipitation and wind. And in winter, the materials from which it is built and what they are finished with, can deteriorate from frost. Below about what materials and furniture is advisable to choose, how to protect them from the sun, cold and moisture.
THE EXTERIOR
Since the terrace is often adjacent to the house, its appearance should match the architecture and style of the house as much as possible. That is, a wood terrace is better suited to a wooden building and a brick one - to brick. Often in order to build a terrace using the materials left after the construction of the house. In this case, its shape can be rectangular or irregular, or even it can be semicircular in shape. The main thing is that the overall appearance of the terrace and the house created a sense of harmony.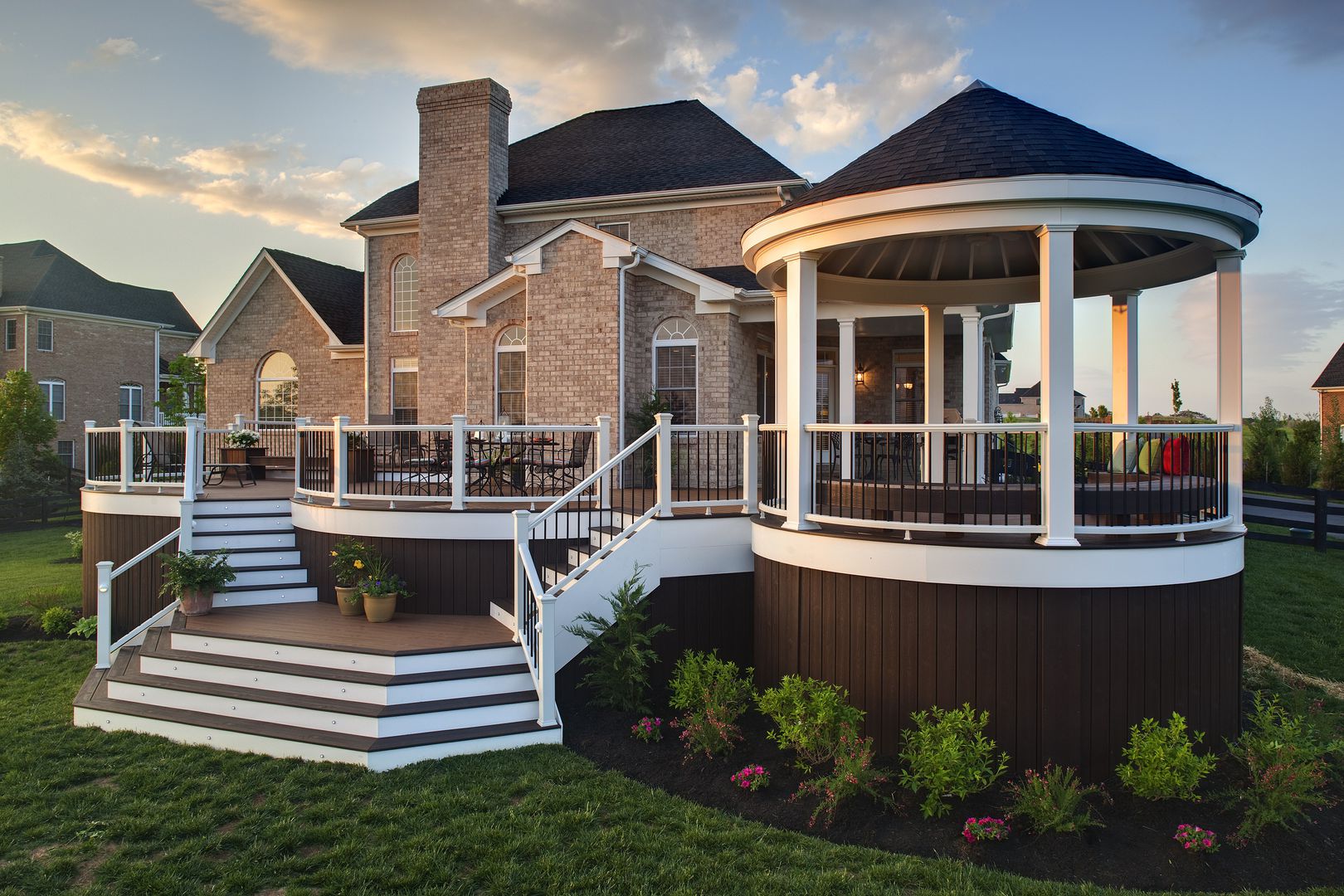 If the topography of the site allows, the terrace can not be put on the support. In any other case, you will need to build an elevation. However, this does not spoil the terrace - on the contrary, a high terrace with stairs looks more cozy and original.
CONSTRUCTION FEATURES
Terrace does not belong to the type of capital structures, so it is not necessary to formalize it in the documents. And perform calculations is quite realistic on their own. Much more important - to choose the right materials, including - for finishing.
If your terrace will stand apart from the house, the capital base under it can not do - it is considered a temporary structure. In this case, it is sufficient to comply with the simplest rules (for example, do not put a terrace over the utilities).
If you have chosen to build a timber frame, a sand-and-chalk "pillow" with a layer of 10 cm is used as a base, on top of which concrete blocks, logs or concrete supports are laid.
To save materials, the roof is better to do single-pitch. If the need to save money is not, you can do any shape, but with a minimum slope of 7 degrees. Often the roof is made of cellular polycarbonate, a small separate terrace and can be closed by a light fabric canopy. But if the structure is built for the years ahead, it is better to use high-quality and durable roofing materials.
As for the choice option open or partially closed terrace, then in this matter all depends on the climatic conditions of the region, the presence or absence of cold strong winds, strong sun and so on.
FENCES
Open terraces have their advantages: they are bright, they are not stuffy, you can see the surrounding area. But there are also disadvantages: mosquitoes, gnats and flies, moisture in the rain, dust. Modern materials for fences allow not only to lose all the advantages of outdoor terraces, but also to get rid of their disadvantages. First of all, note that fences are divided into two types:
Open, more decorative;
Closed, functional.
Despite the fact that open fences are considered more decorative, they also have a protective function: when the terrace is located on the base of more than half a meter in height, when you fall from it, there is a risk of injury. The same applies to terraces that are on the edge of slopes. So even an open fence must be sturdy. However, if it is very small (less than 4 square meters), there is simply no room for a fence - it will take away the already small area.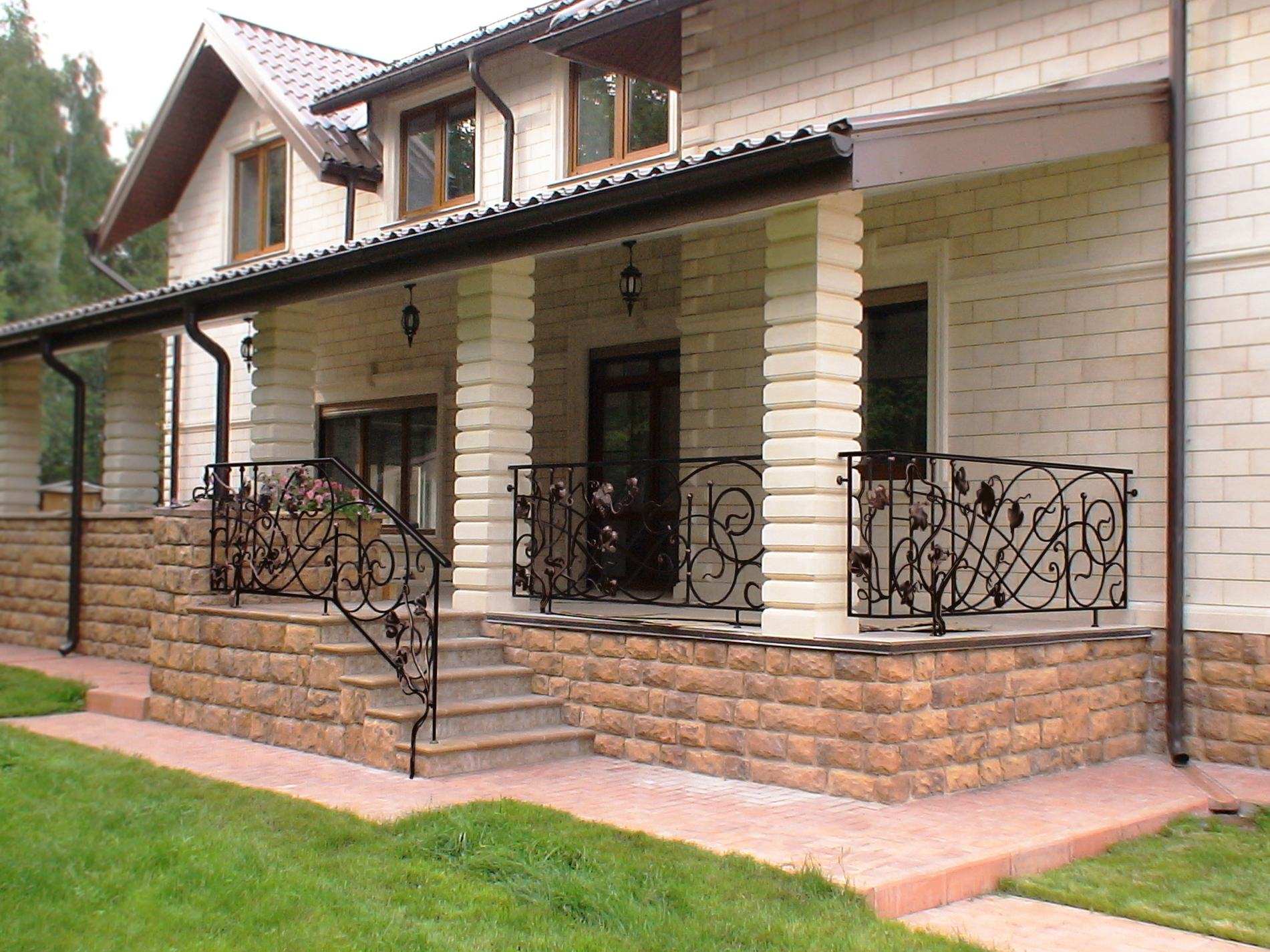 The choice of fencing material mainly depends on the type of terrace. For a construction without a capital base will not suit the railing made of stone or brick. The most common option for open fencing is solid wood. Metal, stone, brick, wood-polymer composite (WPC), PVC products are also used.
For fences made of natural wood, almost any kind is suitable, except for maple, which is deformed by water and sunlight. The material must be treated with antiseptic and varnish. On sale, there are special decking paints for wood - they are good protection from adverse factors.
WPC is a more practical material. It is made of polymer fibers mixed with wood dust. The appearance of wood-polymer composite is difficult to distinguish from the look of wood, while it does not require painting and serves for many years. WPC does not absorb moisture, does not rot, very durable.
Steel fences can be made of a profile or round tube, or forged. It is best if it is stainless steel or chrome-plated metal. Metal fences often have sheets of glass inserted in them for beauty and greater protection.
PVC fences are the most inexpensive and unpretentious, and very aesthetically pleasing products are on sale. Such railings can be purchased ready-made, or you can assemble it yourself. It is better to strengthen the fence with metal rods.
Brick or stone is not used for terraces made of wood - the load is too great. For capital structures, however, it is an acceptable option.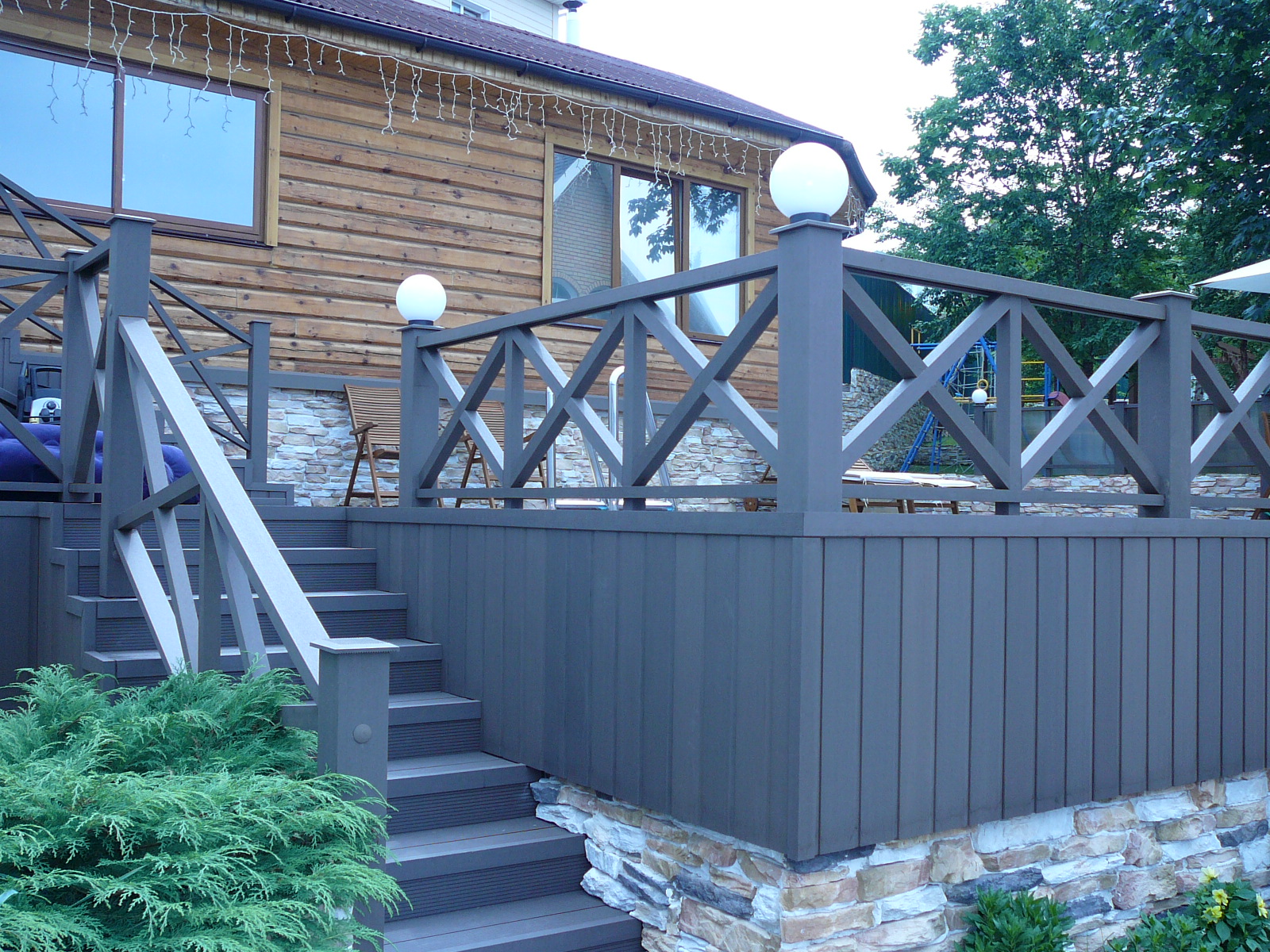 The height of the railing depends on the height of the base. The higher it is - the higher should be the fence (at least 1.2 m, based on the average human height of 1.7 meters).
ПClosed fences may mean double-glazed windows of the sliding type, mosquito nets or ordinary glass windows. The main thing is not to block the sunlight and not to deprive the terrace of its meaning. In fact, you can make this structure universal, that is suitable for year-round use, but then you will have to think about the heating system and insulation of the walls, floor and roof.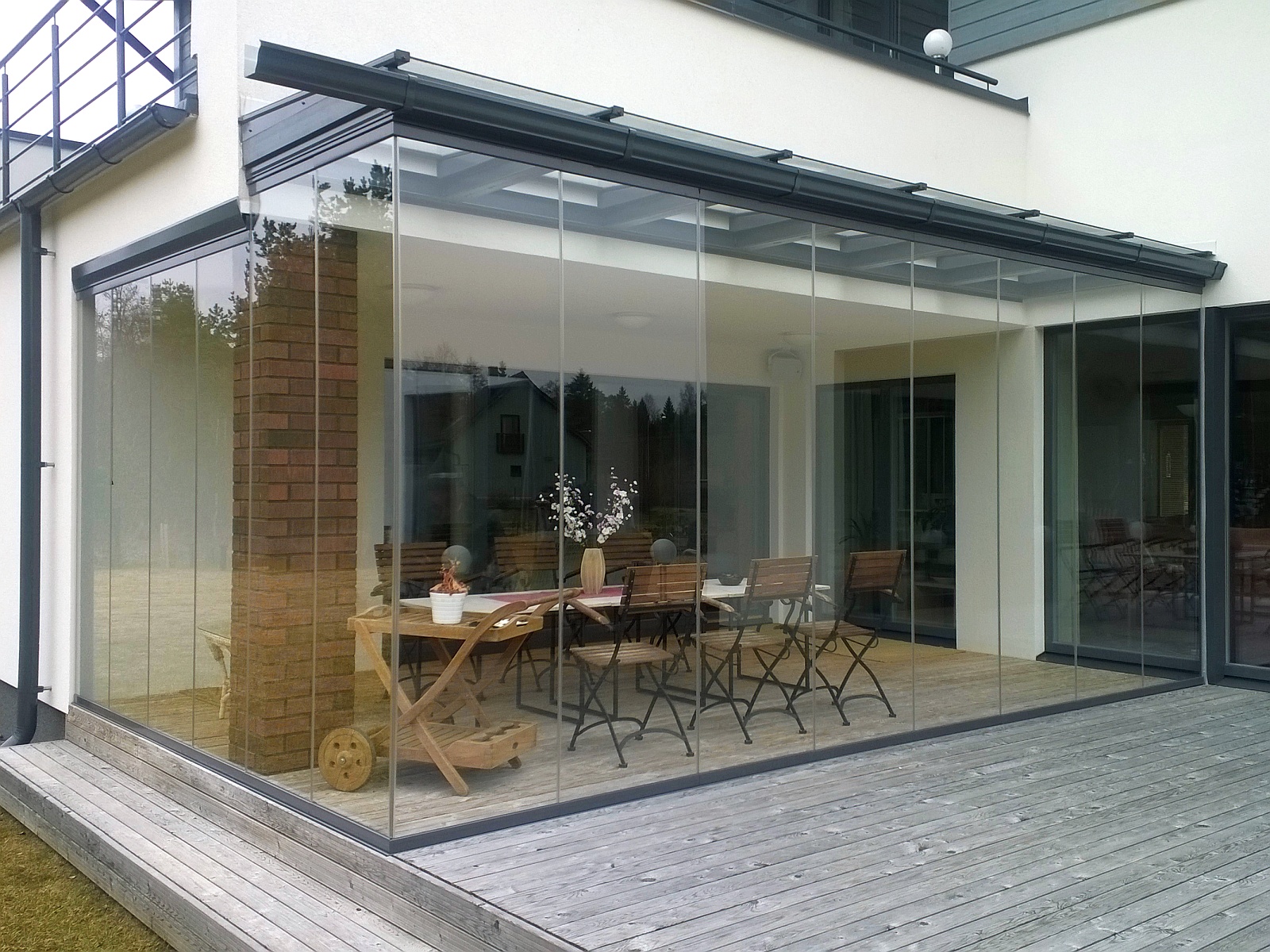 TERRACE ON THE FIRST FLOOR
If the design of a two-story house includes a balcony, it is quite possible to replace it with a cozy terrace. In this case, it can perform several functions at once: a dining room, a recreation area or even a summer living room. To be able to use the terrace in the winter, you can glaze it and properly insulate it.
Terrace on the second floor can be one of the following design types:
A structure on supports, attached to the wall of the cottage. Under it is an open space (or another terrace).
The terrace is located above the living rooms, and its floor plays the role of the ceiling of the lower rooms.
Both types can be built at the same time as the house is built or can be attached to an existing house.
Навесная терраса опирается на балки и опоры из дерева или металла. Опоры обязательно укрепляют бетонным фундаментом.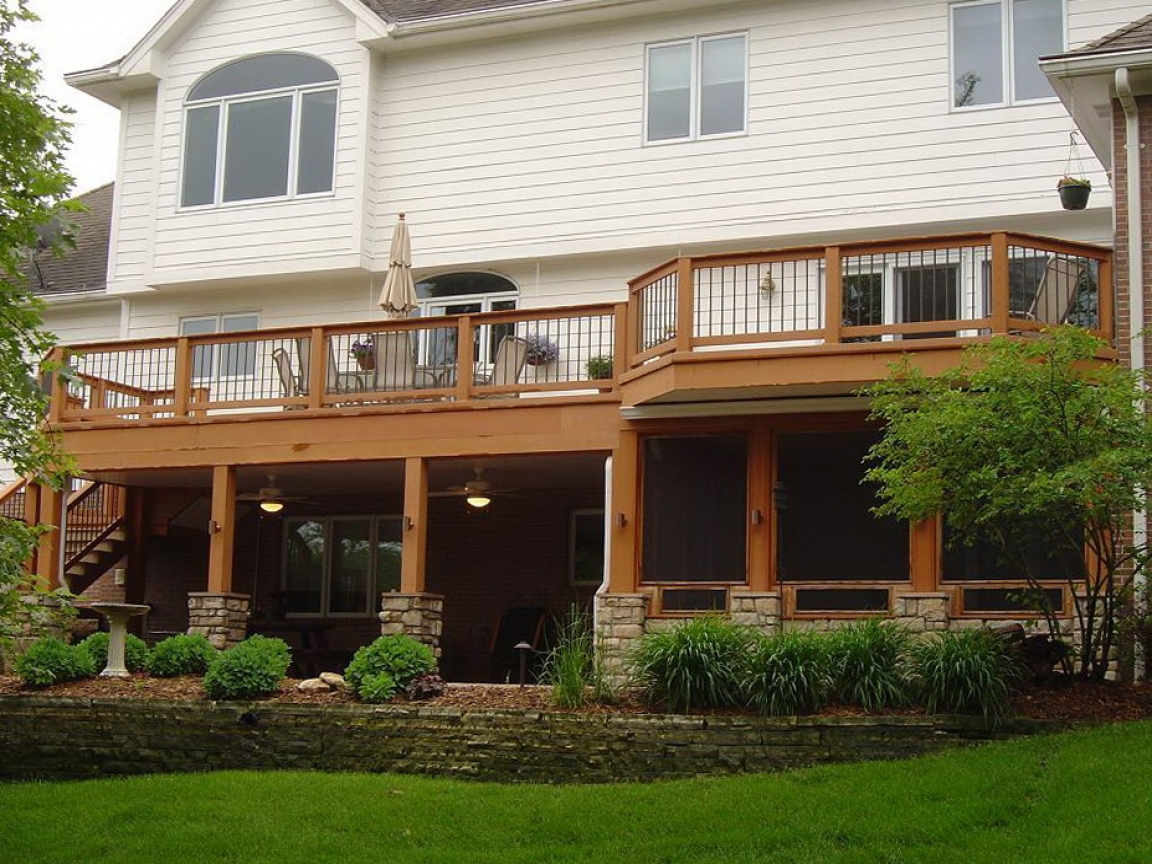 Open terrace on the second floor serves as a roof for the lower terrace. It is based on strong poles, made of wood, and equipped with external stairs. Terrace over the premises of the house should be well waterproofed. Especially if it is of the open type.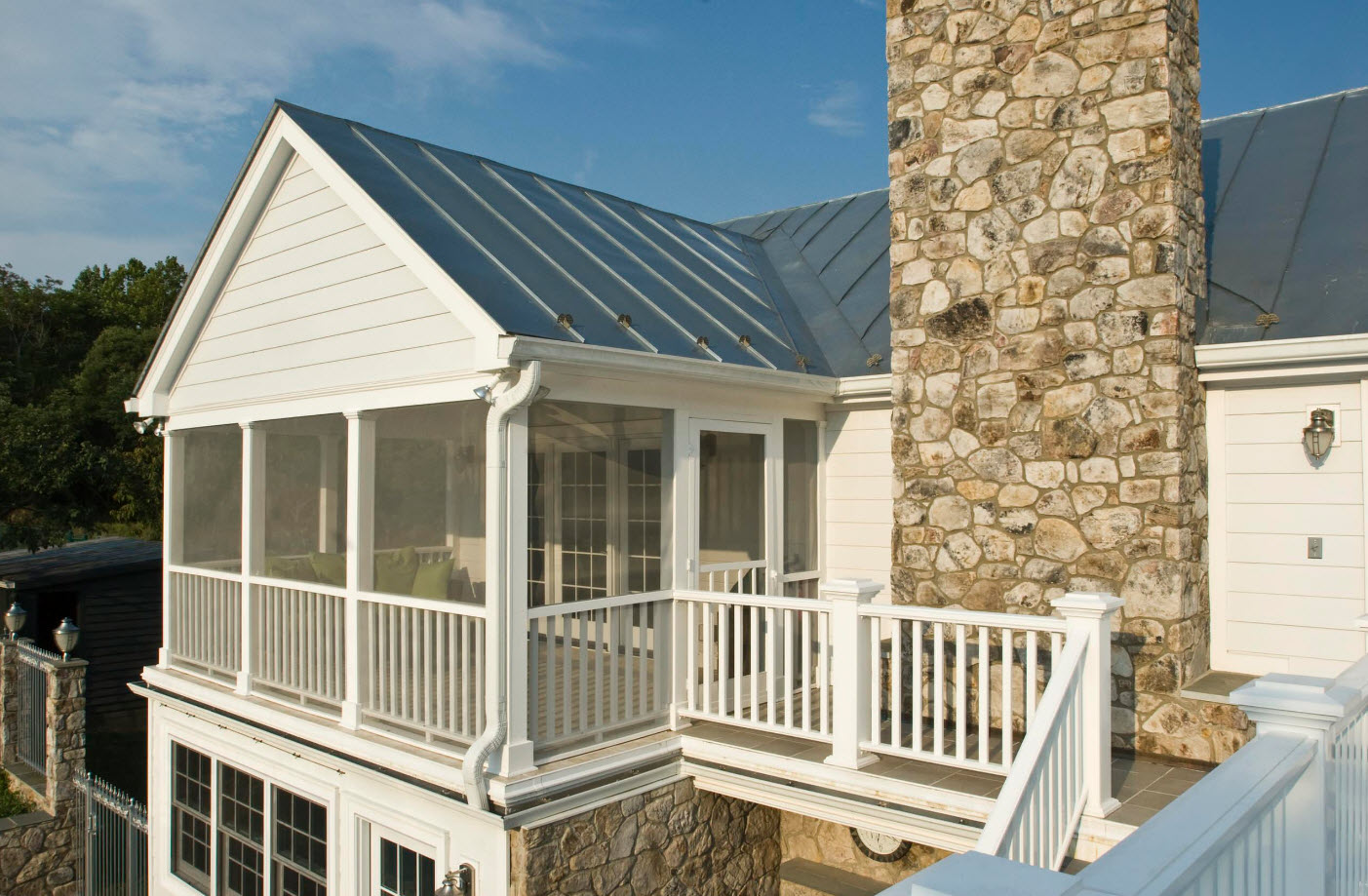 FLOOR COATINGS
Due to the peculiarities of terraces, the coatings have strict requirements for frost resistance, moisture resistance, resistance to damage and so on. Aesthetic qualities are also not in last place. Style coatings must be in harmony with the material from which the terrace was built. The most common can be called the following materials for flooring terraces:
Natural wood. Both exotic and ordinary types of wood are used. It is important that the board has been thoroughly impregnated with antiseptics. It is worth taking into account that the wood, especially varnished, becomes slippery in the rain. Therefore, small gaps between the boards or make a special system of water drainage.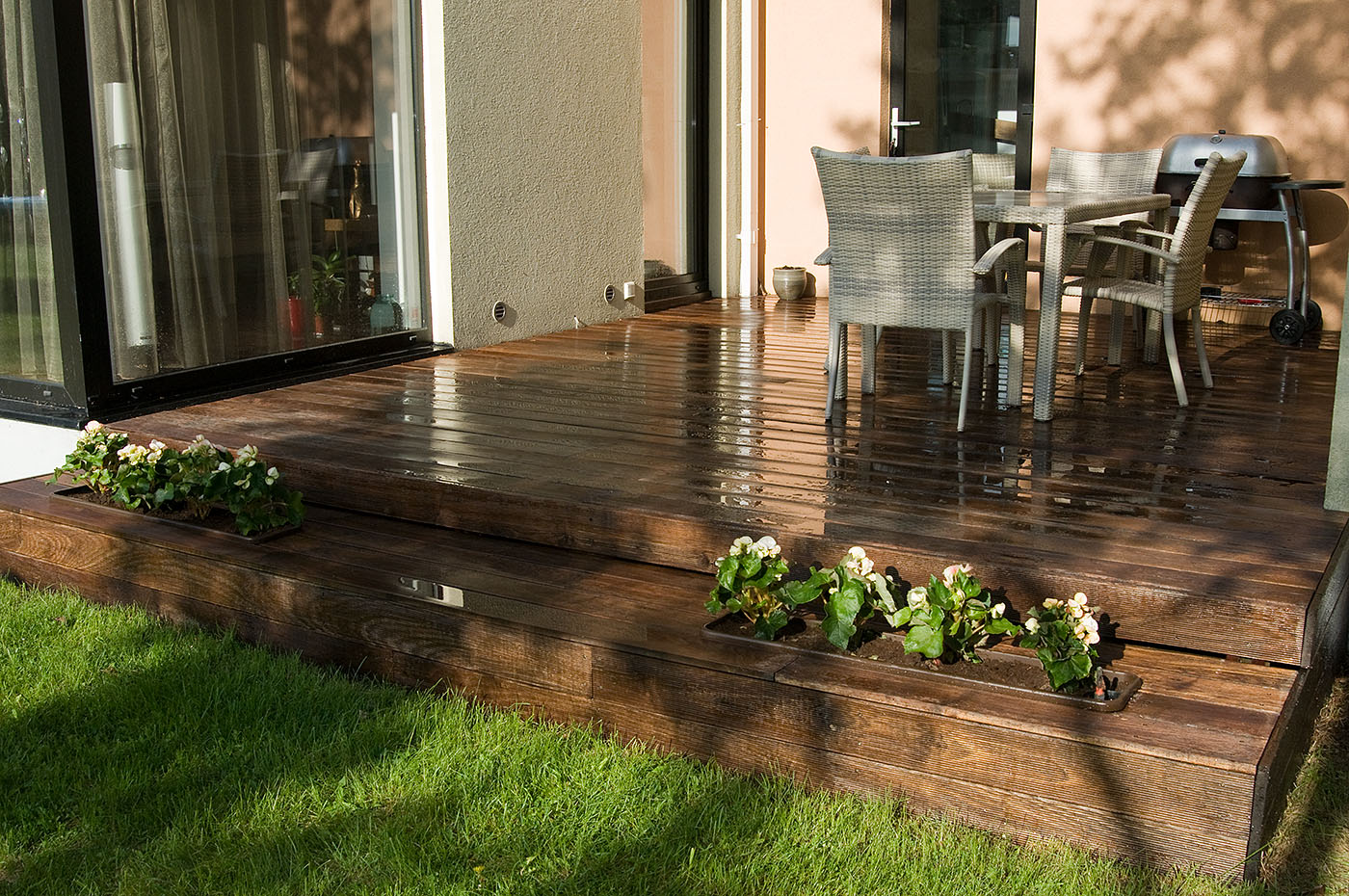 Porcelain stoneware is very strong, but it has a number of serious drawbacks. In addition, it is cold (not everyone likes to walk on a cold floor even in summer), in winter and in the rain it is very slippery. So if you choose porcelain tiles, give preference to rough and matte tiles.
Decking, WPC or decking - the material we mentioned earlier. For the floor it is also excellent - it does not deform, repels moisture, can withstand temperatures from 80 to -45 degrees. Externally, WPC resembles natural wood, but it can not be called perfectly similar to wood in appearance or in tactile sensations. Perhaps that's its only disadvantage.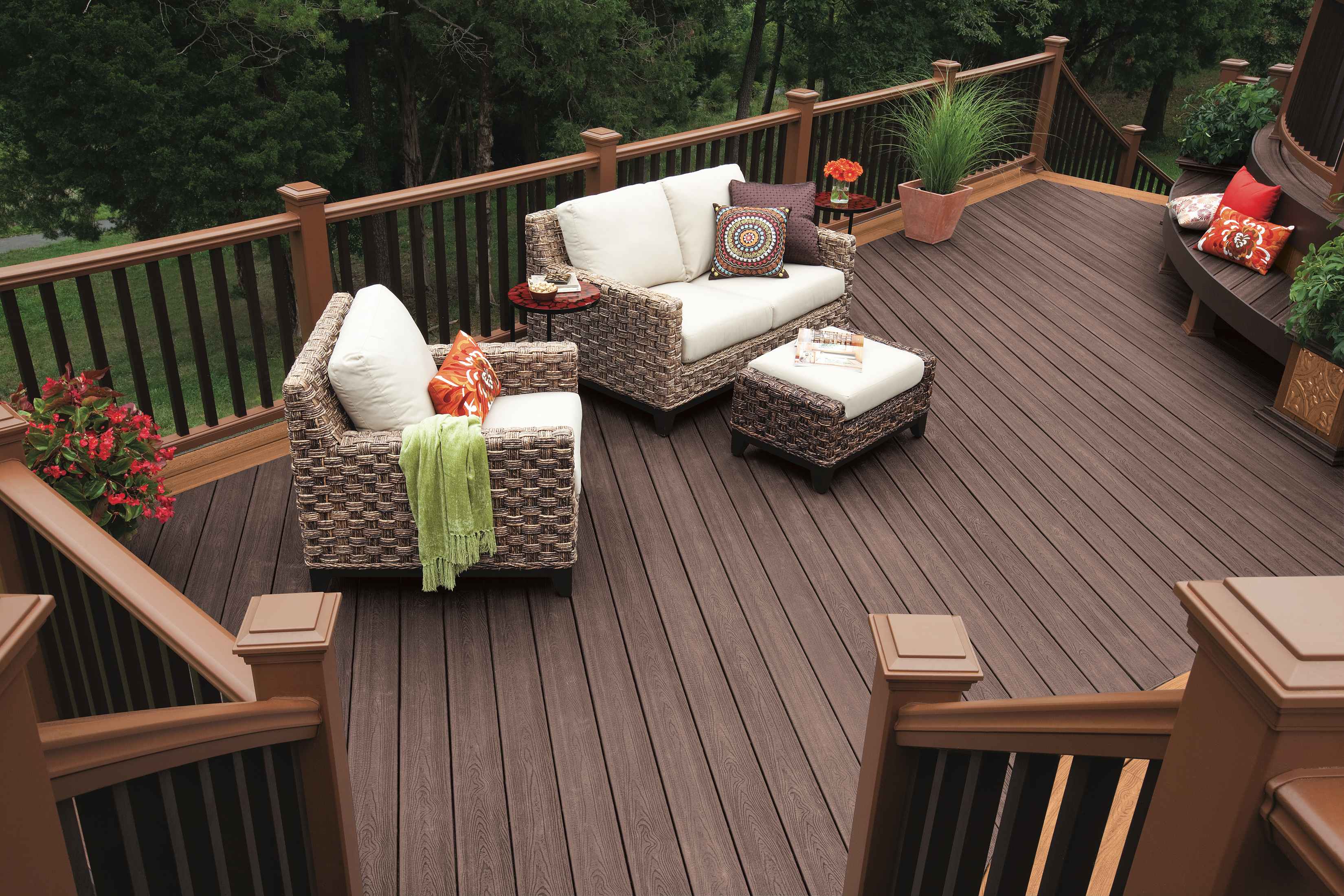 Ceramic tiles (it can include and mentioned ceramic granite), including clinker, is laid on the terraces on the screed quite often. For this purpose, only frost-resistant types with a structured surface, without glaze, with a degree of abrasion IV or V. To avoid water accumulation on the floor, the tiles are placed at a slight slope, carefully seal the seams, and in winter put rubber mats on top, so as not to be slippery.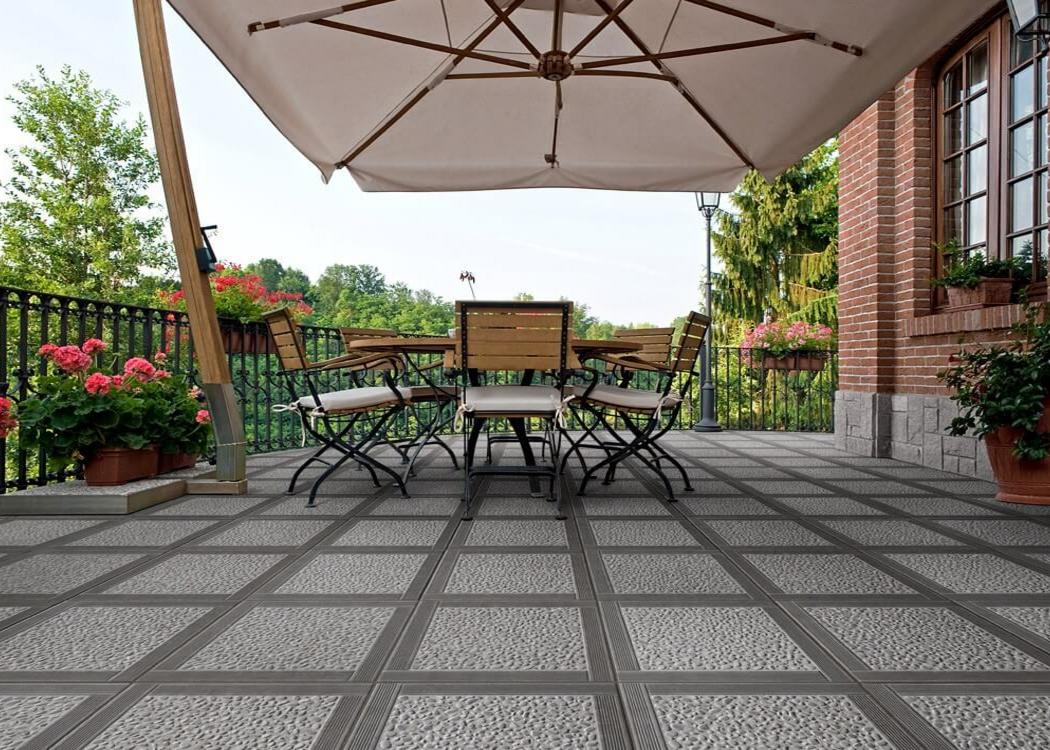 Concrete (paving) tiles (and stamped concrete) are also quite common in finishing the floor. However, it is quite heavy, so it requires a reinforced base. In addition, concrete gets very hot in the open sun.
Rubber coatings are available in rolls or in the form of tiles. They cover sports fields, playgrounds at swimming pools, as well as the floor. These materials have a lot of advantages: hygiene, resistance to heat and frost, fire resistance, pleasant tactile sensation.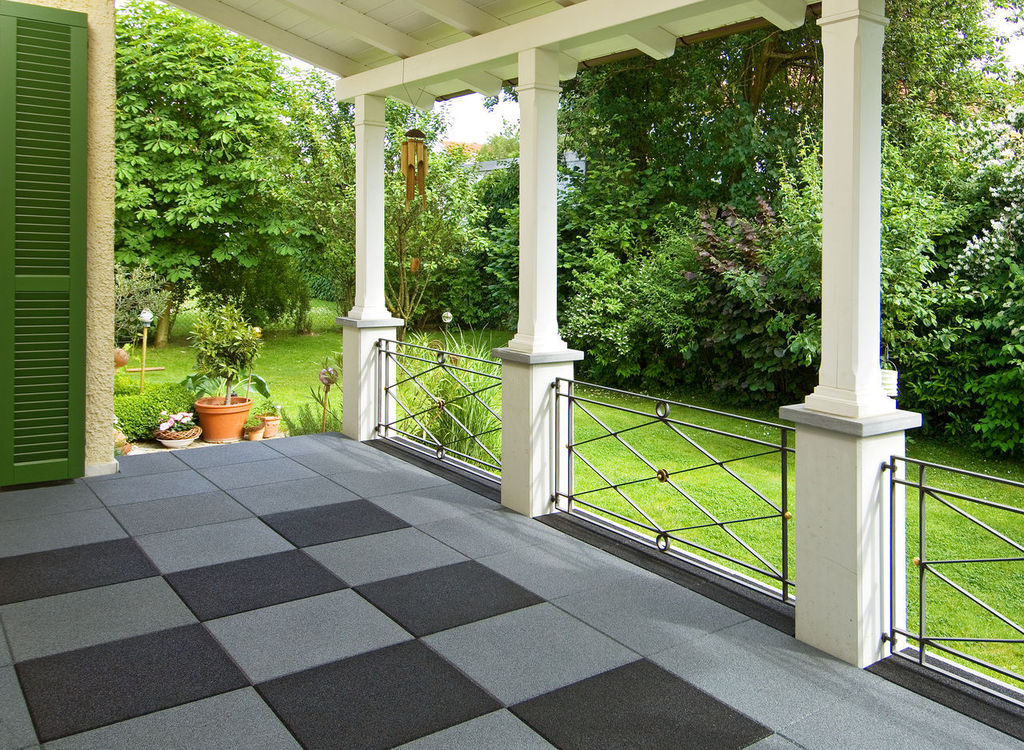 TEXTILES AND FURNITURE
Furniture and decorations on the terrace also have special requirements. It is desirable to use washable surfaces, easy care products, durable and resistant to temperature changes. Covered terraces are easier to equip - they are protected from wind, moisture, heat and extreme cold. Therefore, it is quite realistic to put wicker furniture, solid wood furniture, and even upholstered furniture on them. For an outdoor terrace, the choice is more difficult. Beforehand, you need to decide whether the furniture will be stationary or mobile, "disposable" or designed to last for years. And, of course, the budget at which you have is decisive.
So, wooden furniture today is represented as a single item, and whole sets for terraces. Its durability depends not only on the type of wood, but also on the quality of the coating. The most expensive and most durable is teak.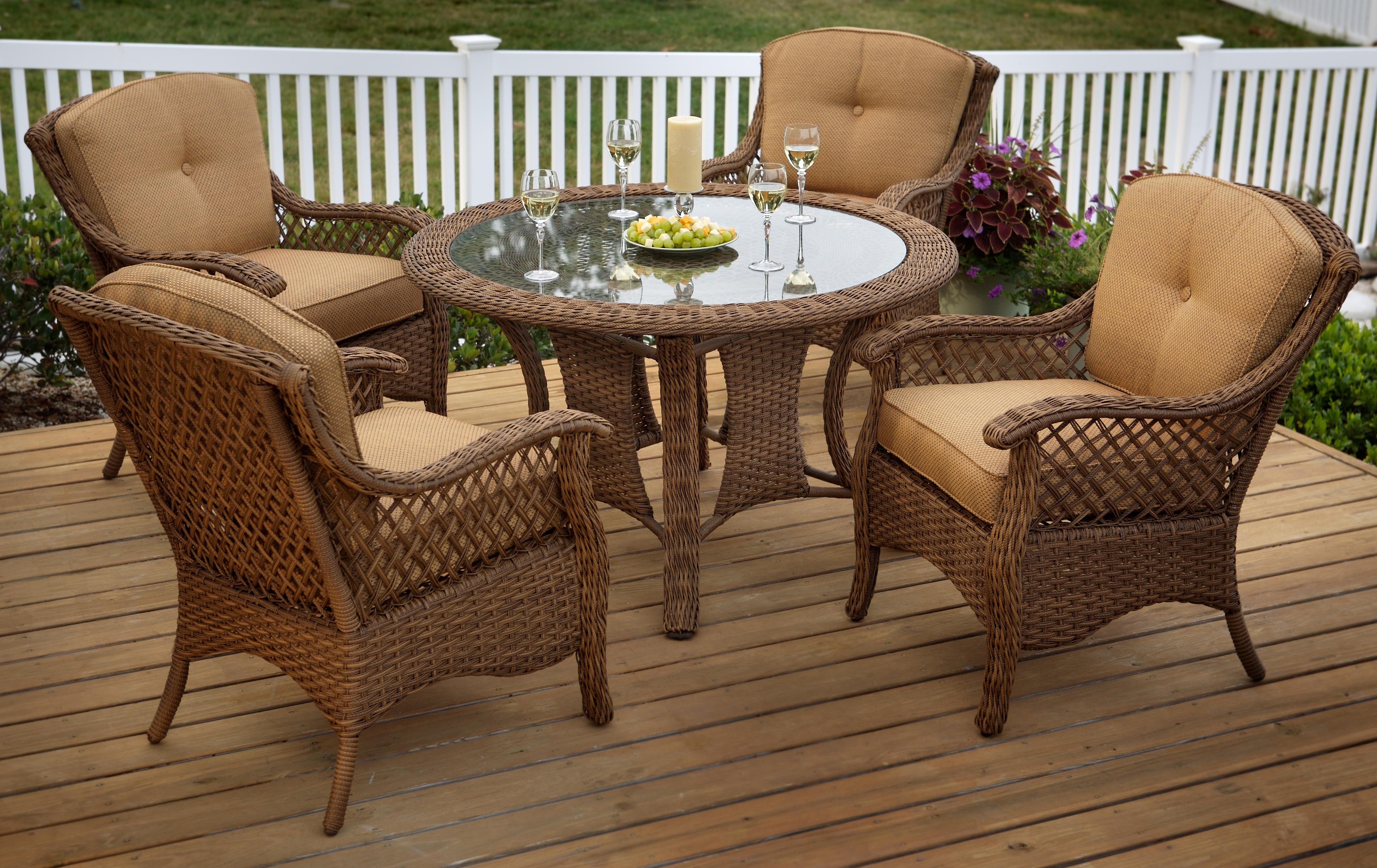 Plastic furniture suits many owners of country houses for its unpretentiousness, low weight and affordable price. But a truly durable and high quality plastic still can not cost cheap. But it is very unpretentious in care.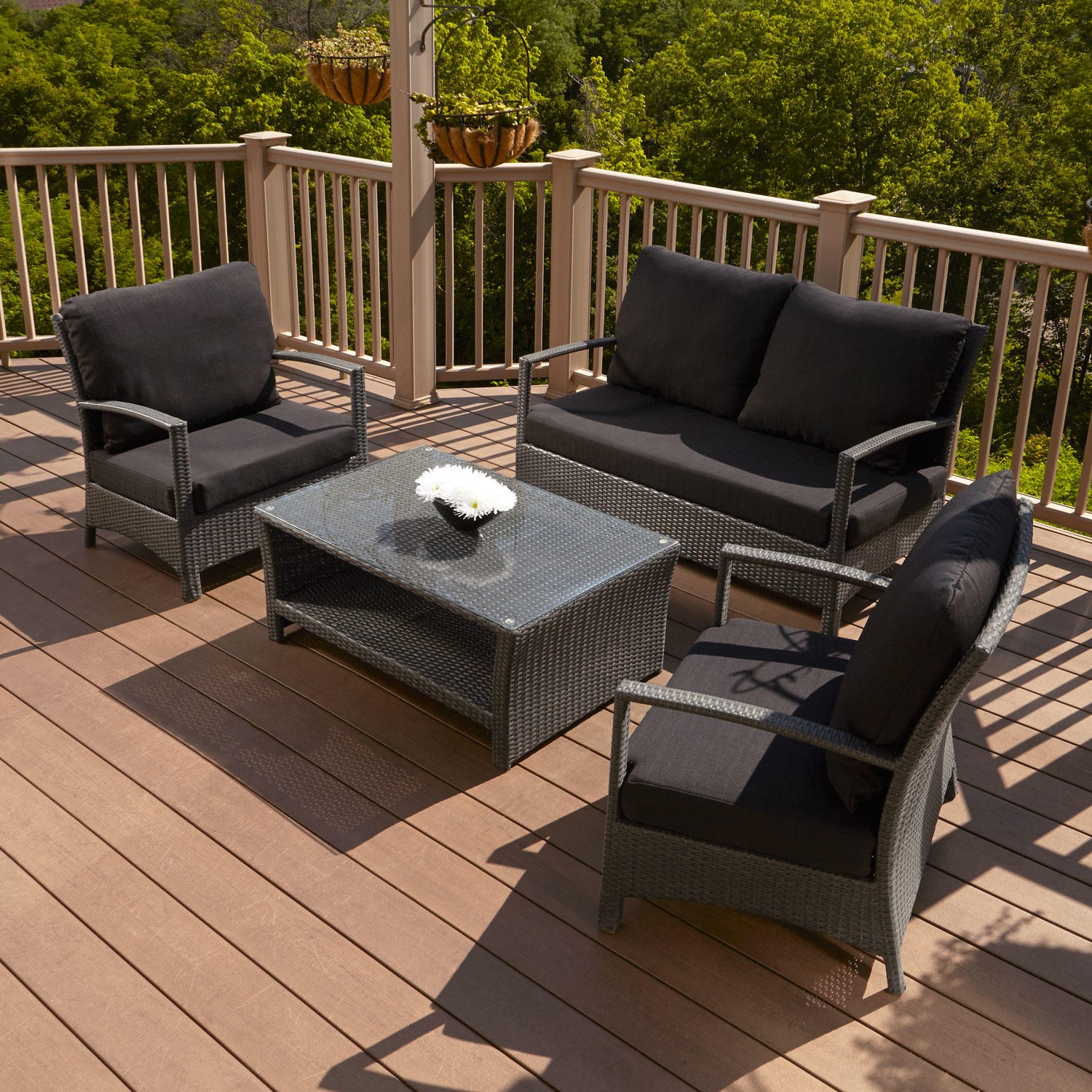 Metal pieces of furniture can be made from a combination of metal base and plastic, wood and glass. The main thing is that all metal elements should be coated with special compositions against rust.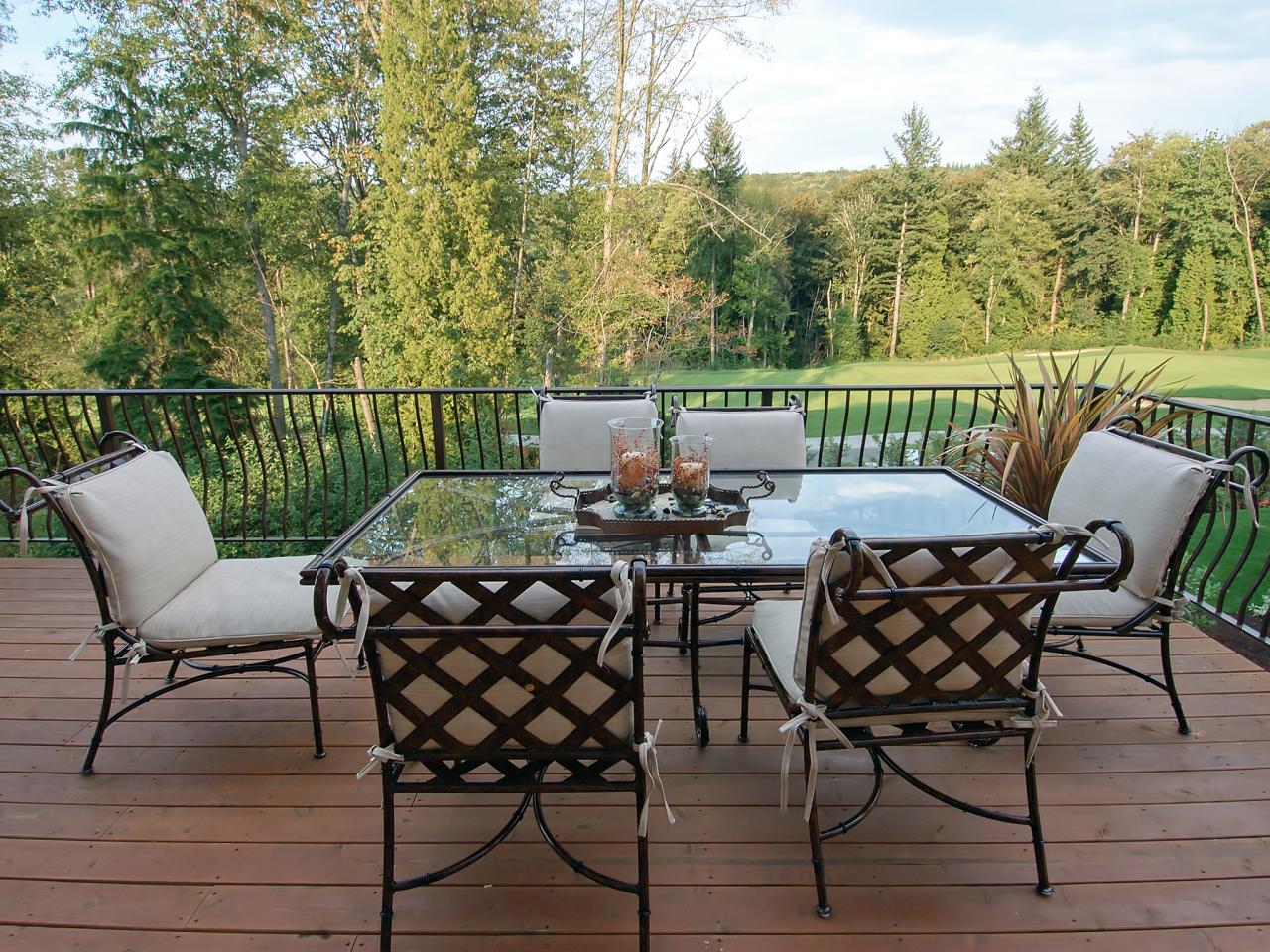 As for curtains, which are often equipped with outdoor patios, they often use "street" fabrics. They are impregnated with special solutions to repel moisture and dirt, do not burn out in the sun and last a very long time. There are synthetic blackout curtains that protect from sunlight.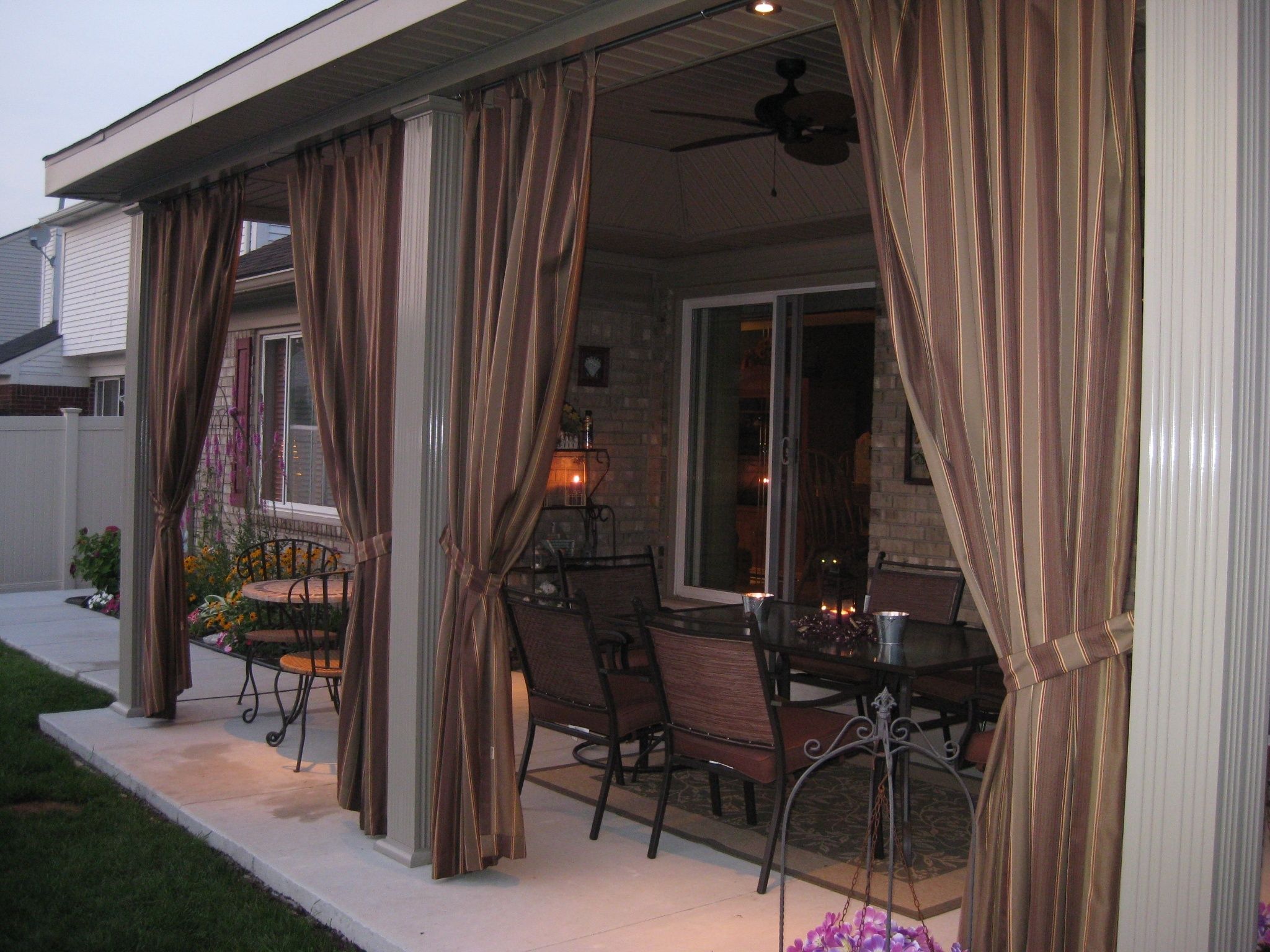 In addition, on terraces hang curtains made of natural fabrics: cotton, linen, silk. They perfectly match the texture of the wood, if the terrace is made of wood, and give a special charm and comfort. Translucent tulles are topical if the terrace is not on the sunny side. Very popular are light tent fabrics with density of 180-230 g/m2. Type of curtains can be anything: on hooks, eyelets, with bolsters, lifting, rolls, panels and so on. The tone depends on the style of the terrace and the need for protection from sunlight.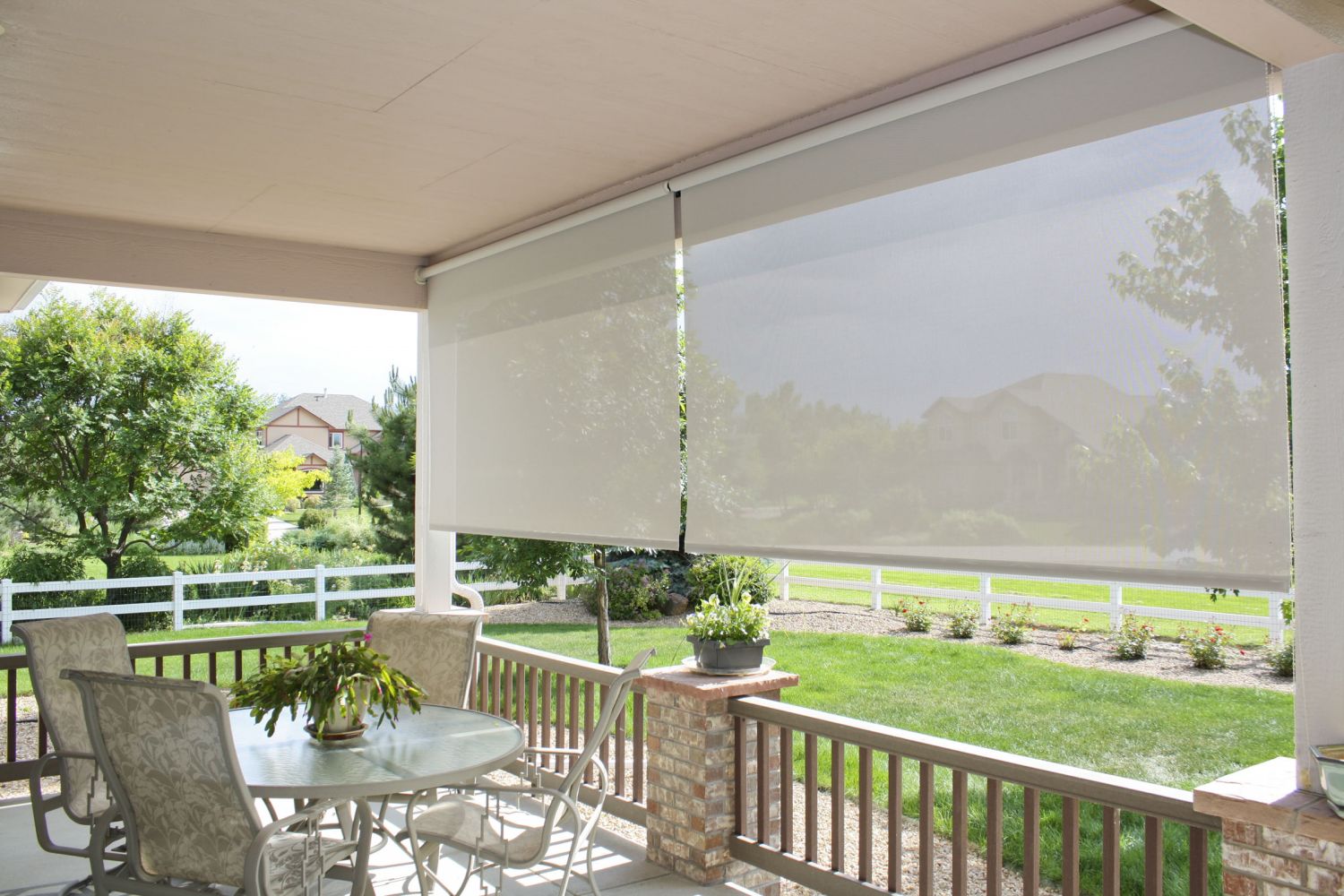 Of course, curtains on terraces are not a necessary element at all, but they surprisingly change their atmosphere to homey, warm and cozy. Curtains protect furniture from dust, burns and even rain. Their choice depends entirely on the taste of the homeowner. It is best to have several sets of curtains.
There are a great many ideas for building and furnishing a terrace. Choose the perfect one for yourself.