Facade plaster. Classification
Stucco trim is an old (known since the 12th century) and proven way to beautify a house. Stucco makes the "face" of the house expressive, but that's not its only advantage.
Advantages:
good vapor permeability in some types: plaster allows the wall structure to release moisture from the wall, this is especially important in winter in cold climates;
weather resistance and moisture resistance;
good hiding power: hides masonry joints and medium wall irregularities;
resistance to weathering, fading and the action of chemicals dissolved in water and air;
resistance to frost (due to free evaporation of moisture);
mechanical strength (due to the use of reinforcing mesh);
the ability to decorate the surface, thanks to a variety of textures;
low cost among the noble finishes;
additional sound and thermal insulation of the house (plasters with volumetric fillers) - doubtful see below.
BASIC AND DECORATIVE
Developing the design of the facade of your home, we comment on each stage, helping to understand the intricacies and make an informed choice.
So, let's divide plasters for clarity into two groups: basic and decorative.
Basic (basecoat) serves as a solid base for painting, decorative plaster, tile, stone and performs no aesthetic functions beyond the formation of an even surface. It is made from unpainted lime and cement mortars (gypsum mortars are not used for external works).
Decorative plasters make the appearance of the house interesting, can stylize the facade under the finish of more expensive materials (stone, wood, brick, rustic). To obtain decorative plaster manufacturers take a traditional mortar and add fillers. They use marble and granite crumb, coarse sand, brick crumb or colored mortars colored with dry paints. Such paints are resistant to alkalis and sunlight, do not reduce the strength of the plaster and give finer shades of color.
The color component of decorative plasters, there are several types:
Stone based — on cement mortar with a crumb of stone rock. Imitates facing natural stones: marble, limestone, granite, tuff.
Pros: Effectively looks molded surface of such plaster (about facade plaster textures, see here). Suitable for finishing concrete and brick surfaces in the cladding of the main parts of buildings - walls, columns, plinths.
The pigmented plaster is based on the lime-sand mortar with the addition of colouring pigments. Quartz, marble, lime, tuff and other sands with fine grains (0.3-1.2 mm) are used as an aggregate. It is used for finishing surfaces of lightweight concrete, tuff, porous blocks.
Pros: durable, plastic, easy to lay and handle. Various textures - like coat, like dunes; like sandstone or ripped stone; rough or grooved. The decor is applied with stamps and rollers.
Terrazite based — a special terrazite mixture of quartz sand, stone crumbs, mica, cement and lime. The filler can have a wide range of grains from 1 to 6 mm. The texture of the finished wall depends on this. The color of terrazite plaster depends to a large extent on the color of the mineral paint added to the composition.
Pros: very decorative; versatile - used for finishing all parts of buildings.
NB. If you are doing a facade in a region with cold winters, then all the plasters listed will be applied over the insulation on a special mesh.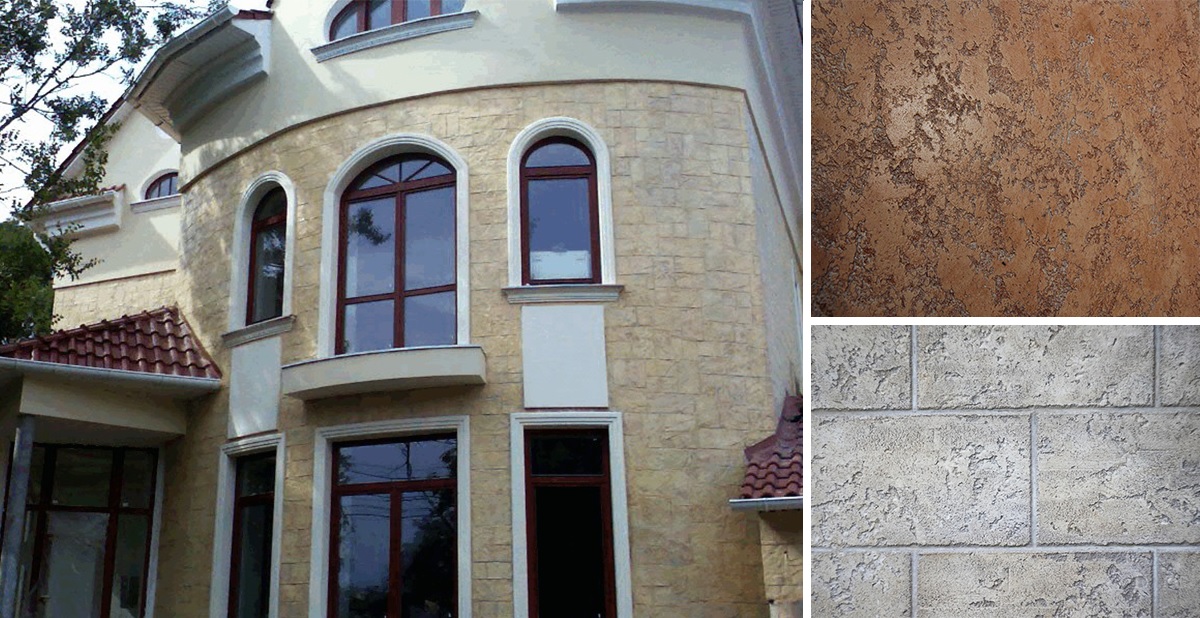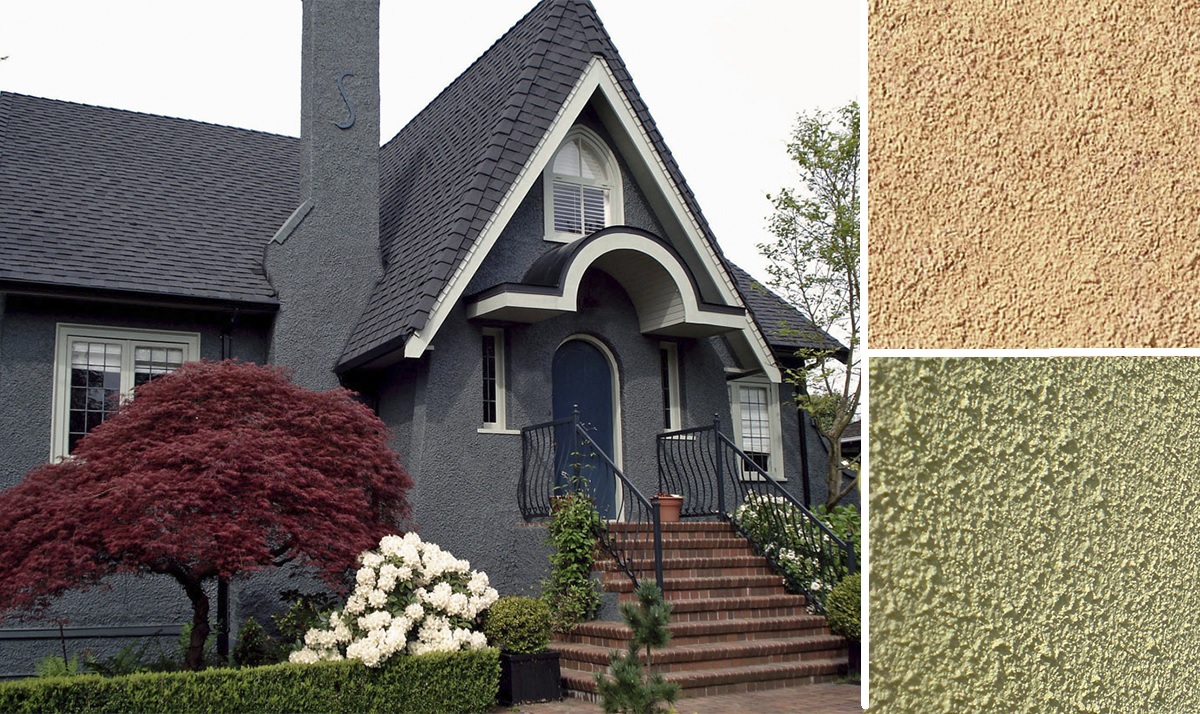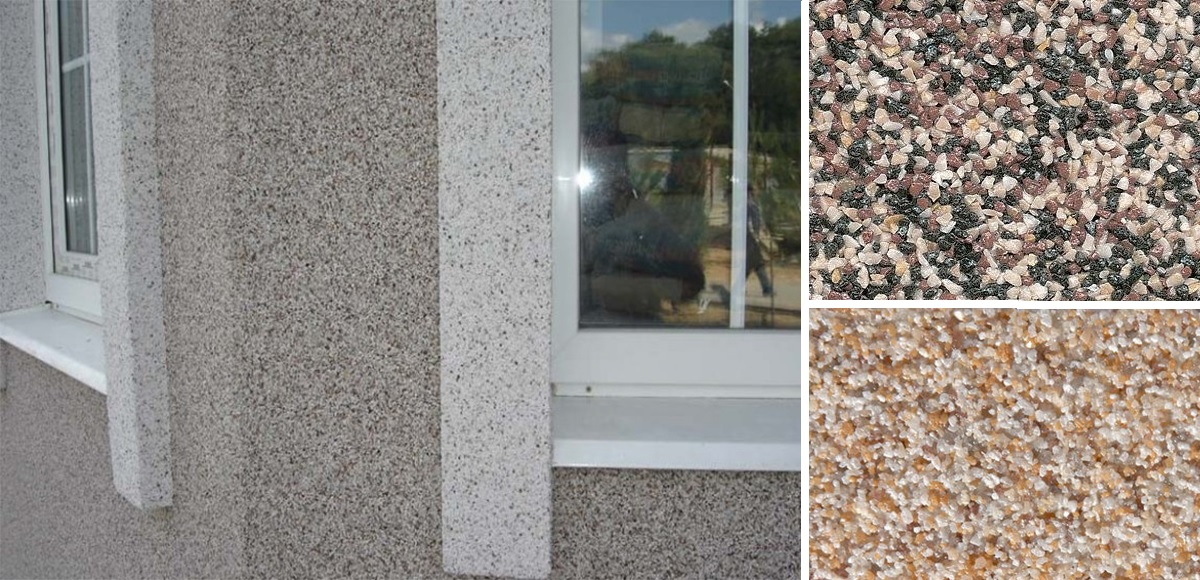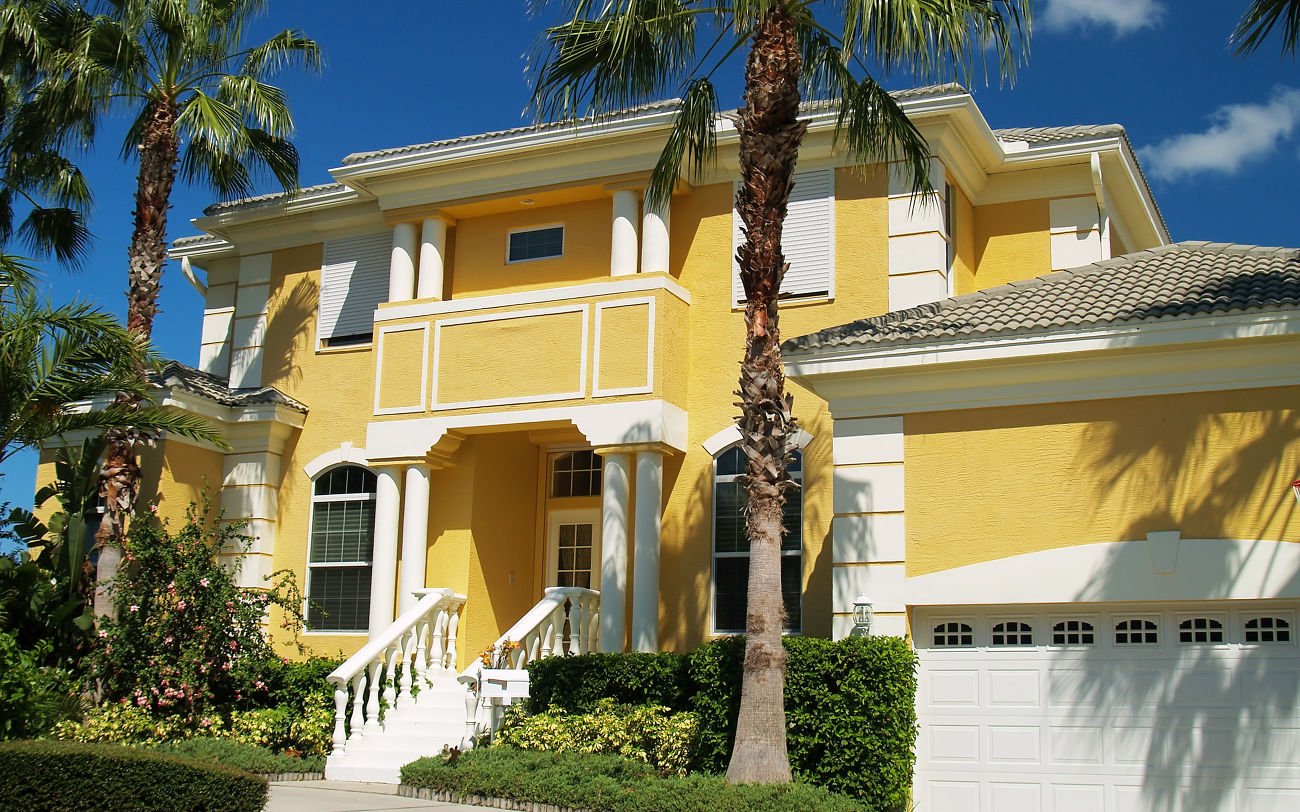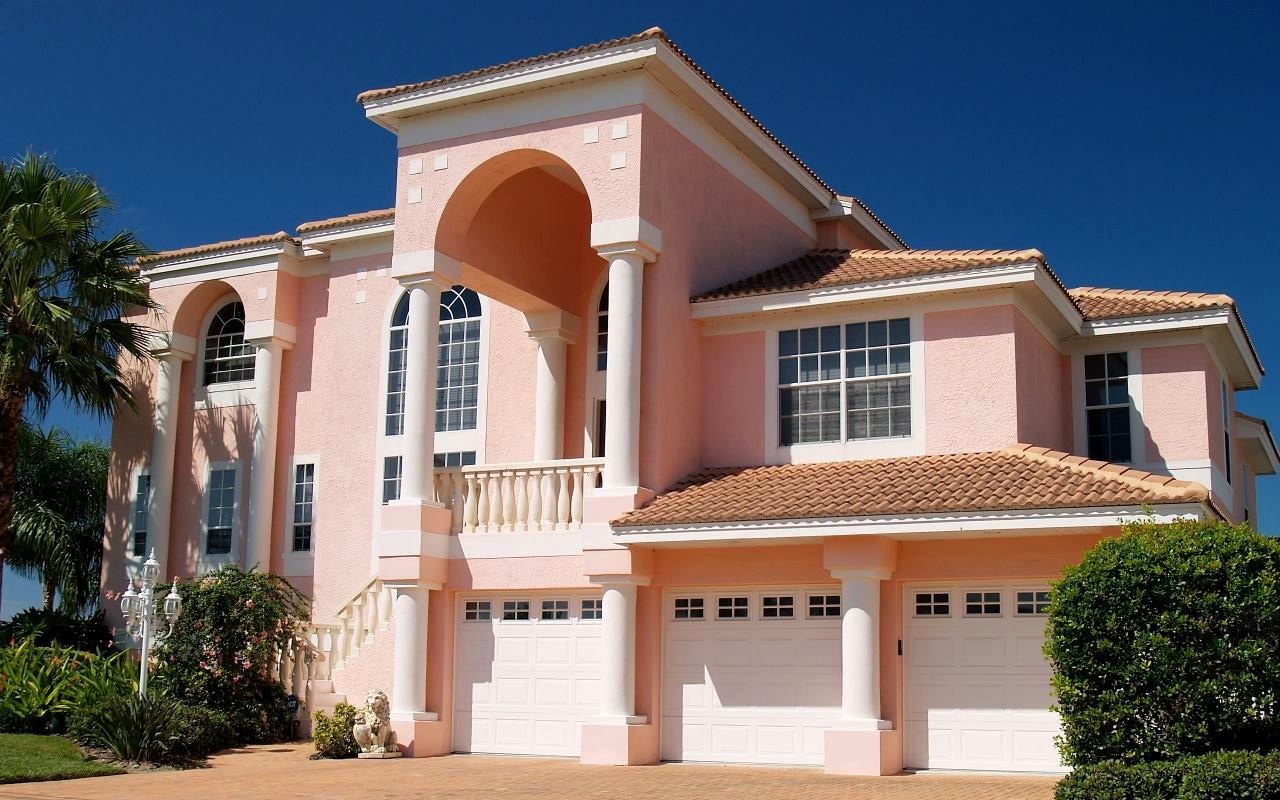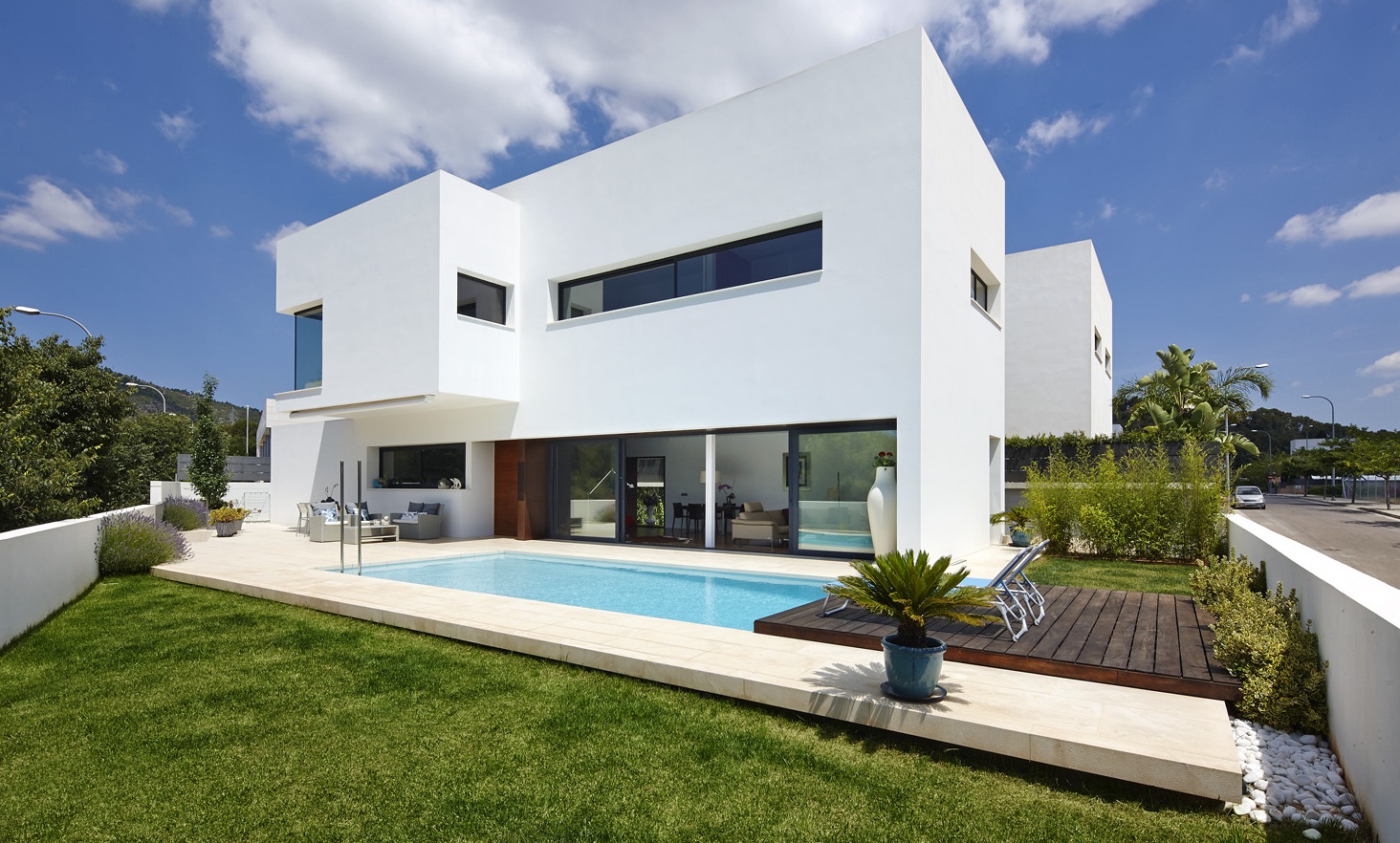 Choose a stucco for your home
According to the basic composition and properties, let's divide plasters into four types:
Mineral plaster — strong cement material, inexpensive and reliable. The disadvantage, in addition to brittleness, "earthy" color scheme, but it can be eliminated: paint the cured mortar with colored silicate paint of any color (there is a choice of RAL Design).
Acrylic plaster is an elastic material based on acrylic resin and it tolerates slight shrinkage of the facade without cracks. Does not allow steam to pass from inside the walls, so it must be used with an understanding of the construction ("pie") of the wall.
Silicate plaster — on the basis of liquid glass, has the same advantages as acrylic plaster.
Silicone plaster — expensive, but functional: it lets steam through (almost always a necessary property) and is very elastic. It forms a hydrophobic, self-cleaning surface - the facade requires less maintenance. However, elastic paints dry out in the sun and air over the years and lose their viscosity, so a stable base for plaster has not been canceled.
Choice of plaster for the facade depends on the tasks of use and the desired appearance. Take into account the micro-texture, color, matting, the ability to form a relief. The imaginative possibilities of combined stucco facades are inexhaustible - take a look in our gallery.
«Warm» stucco
There is a class of "warm" plasters with bulk fillers - these are poorly suited to facades. Mineral fillers (perlite, vermiculite) absorb moisture and get dirty, polystyrene dries in the sun and burns, cellular glass prevents vapor flow, sawdust swells and rots. Such plasters are brittle and not so warm. You can not form a thick layer of them to achieve tangible thermal insulation, and the more so you can not form a base layer of it and then glue a tile or stone (this is a design solution we have seen in our practice).
If the house needs to be insulated, use special insulators, they have better properties and reliable operation.
It happens that the bulk fillers are used on the facades to reduce the layer of special decorative "thick-layer" plaster. This makes it possible to form a texture.