The texture, relief and luster of stone
A guide to choosing facing stone textures
Conversation with the designer about finishing own house can turn into an endless series of not always clear questions about the type of facing stone: smooth or textured? boulder or with broken edge? with a regular pattern or without it at all? wild? polished? dark or light? And even if you have already decided on the material itself, the variety of textures and treatments of natural stone, even a connoisseur-mineralog can make think for a long time.
Today's article - a small guide to the choice of texture and shape of facing stone.
Texture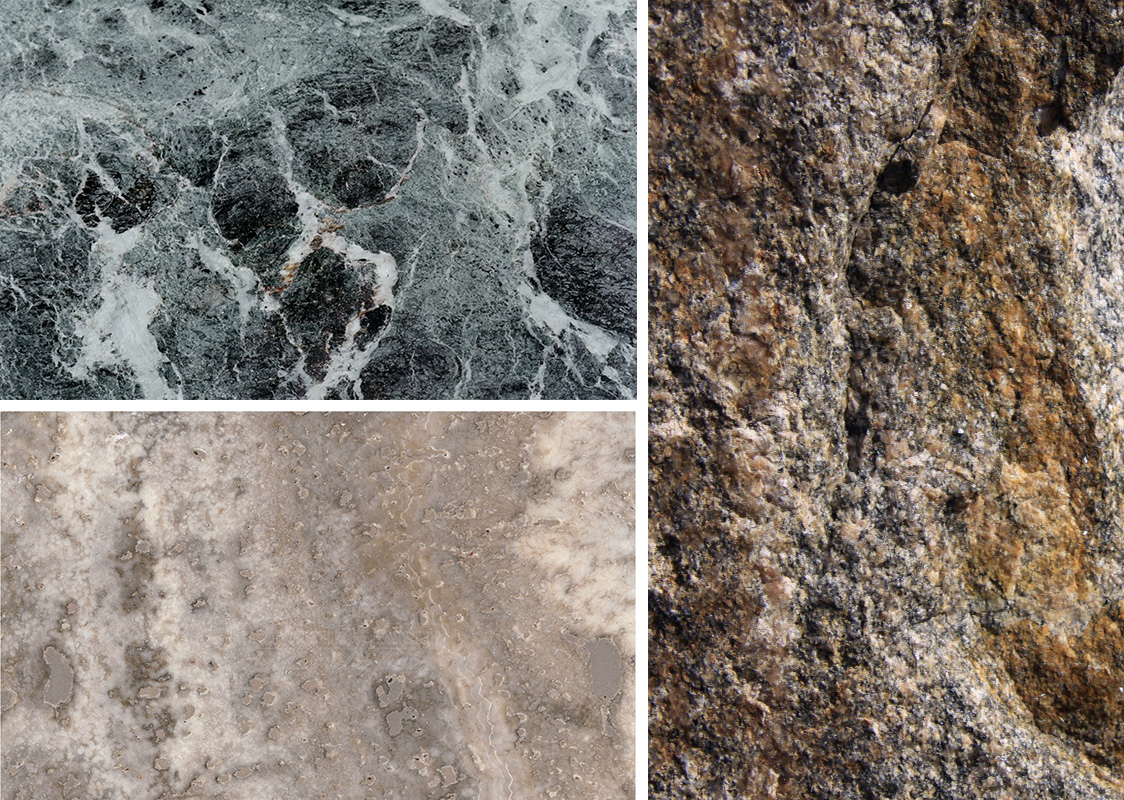 The quality of the surface of natural stone, depends largely on its natural properties. There are three types of textures:
Smooth
Polished texture gives the stone a mirror shine, allows you to reveal its pattern, natural color and structure; this treatment increases durability and reduces water absorption. The only drawback is that polished slabs become slippery in wet conditions.
Varnished — matte, quite smooth surface without visible traces of processing with a well-defined stone pattern and a weak sheen; significantly increases the life of the flooring.
Crystallized — specific for marble: thermochemical treatment transforms the upper layer of stone into a solid oxide film; if the procedure is performed after grinding and polishing, the surface becomes almost mirror-like, if not, it acquires a muted metallic luster.
Rough
Grinded: the surface retains traces of machining with an abrasive instrument and has a roughness up to 0.5 mm in height. The color, pattern and structure of the stone reveal themselves only slightly, while the overall background is noticeably lighter. It is an excellent surface for floors, steps and decks.
Sawn tiles feature grooved tool marks. Sawn plates are used for paving garden paths, and for facing plinths and walls, but are more often subjected to further processing.
Heat-treated is rough, with traces of peeling; perfectly reveals the color and texture of the stone. Heat-treated stone is good for finishing building facades, as well as platforms and steps, as it has anti-slip properties.
Sandblasted — uniformly grained, obtained under a jet of compressed air; the treatment is used for exterior work or in places where there is a risk of slipping.
Shell-shaped — with uniform depressions up to 4 mm deep, which makes the treatment very decorative. Stone with such a texture can be used for exterior decoration of buildings, and for interior design.
Aged («antique») — etched and processed by metal brushes, the effect is an imitation of natural weathering under the influence of the sun and air. Stone in this treatment is used in interior decoration, in landscape design, its advantage - with time and use it becomes even better.
Relief
Rock — man-made imitation of a wild stone, rough surface treatment, which remained in a mess depressions and protrusions 50-200 mm, not further processed, the stone with this texture is used for exterior decoration.
Pierced is a highly textured stone surface, the height of the burrs on which is more than 7 mm. It looks good in combination with polished elements.
The texture of burled stone is achieved by working the surface with a metallic tetrahedral hammer (bouchard), after which the surface remains chipped to a height of 5 mm. The decorative effect of the roughness has a practical application: it reduces slipping. Bucharded stone is mainly used for paving sidewalks and walkways.
For the facades of residential homes are most often used rough and embossed textures, but also polished granite, gabbro, labradorite will be an excellent finishing material for walls and plinths. The beauty of polishing - in the shine and the opening depth of natural color stone, but chopped and rock textures have a more natural look, easier to fit into the landscape and less demanding to external conditions. Looks great on the facades and natural stone tiles (limestone, sandstone, travertine) with sandblasted and heat-treated surface, but the slate tiles often leave untreated.
Stone shape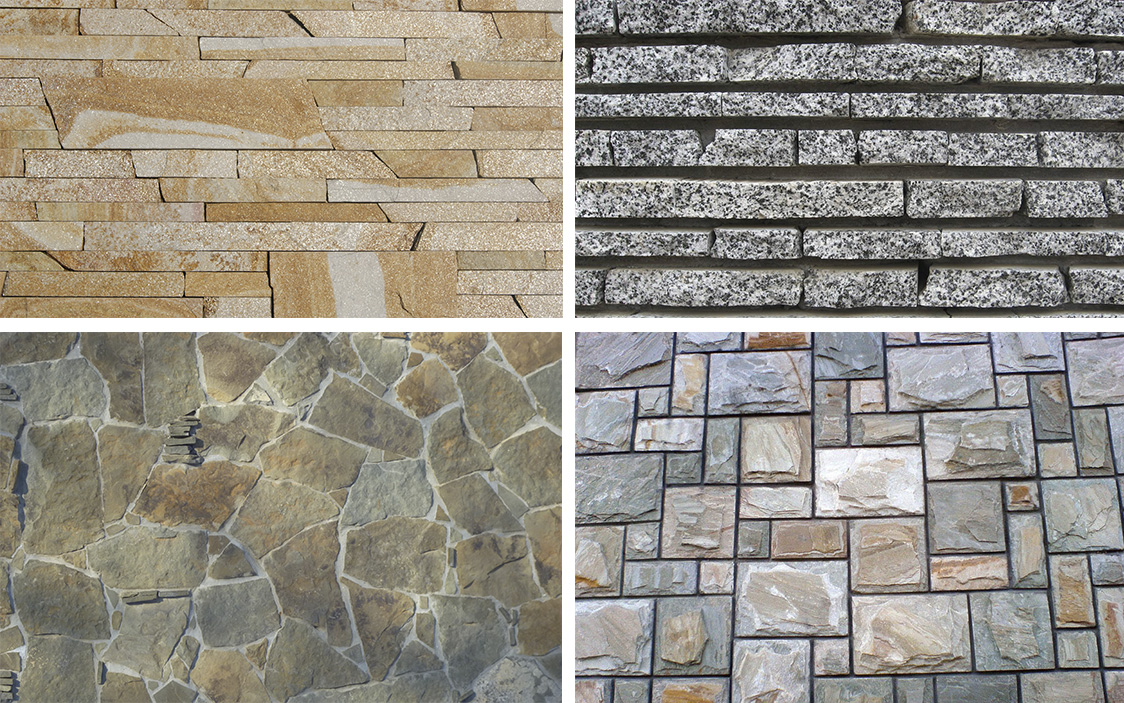 Processing of a natural stone is also giving it the necessary forms and sizes. Facing stone is conventionally divided into two groups - sawn (processed) and jagged (raw).
Wild stone - textured, with chipped - used to decorate plinths and exterior walls, especially if the task is to "fit" the house in the landscape. Although no less success in the finishing and rounded stones, boulders and pebbles, because of its highly decorative. But most often used for facing plinths, facades and fences are untreated stones with jagged edges - masonry.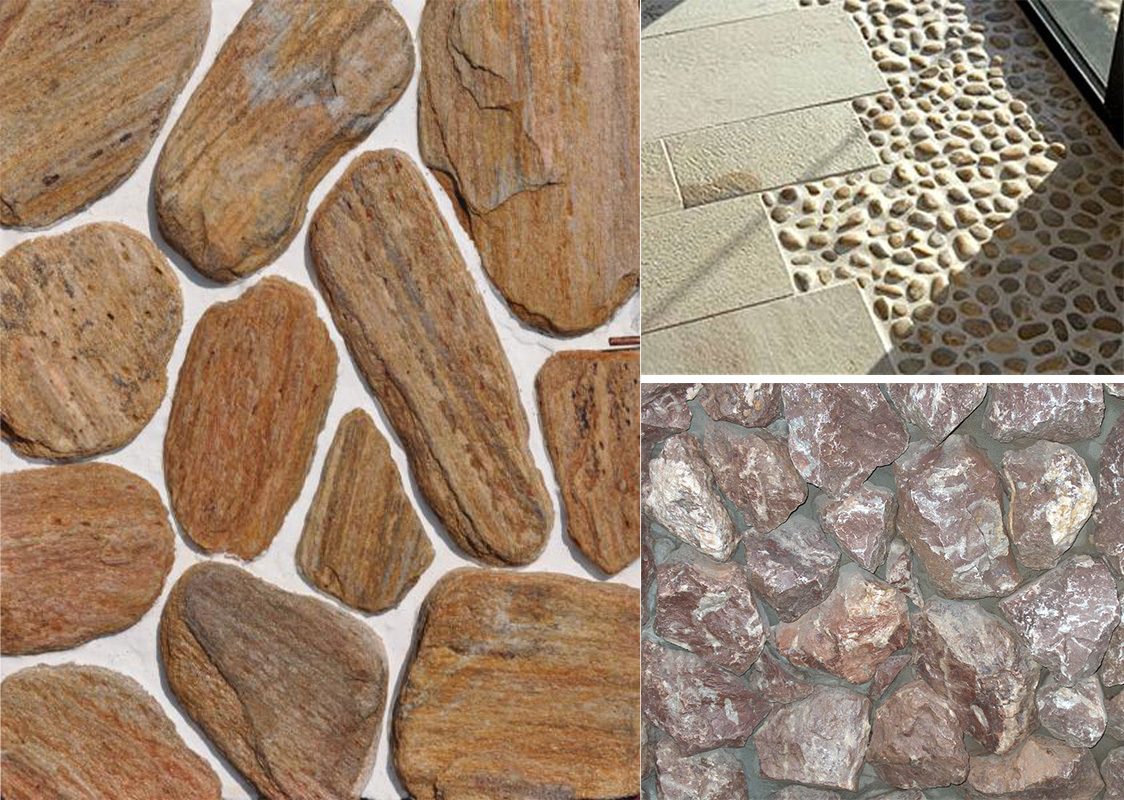 Sawed stone is available in the form of tiles, lined bars, butts, galvanized stone (slabs of varying size of irregular shape with smooth edges), noodles (sawn into plates of solid rock), end slicing (in the form of strips of the end part of a flat natural stone). The scope of its application is inexhaustible, since in this form the stone looks equally good in the exterior decoration of the house, in the interior and in landscape compositions.
Masonry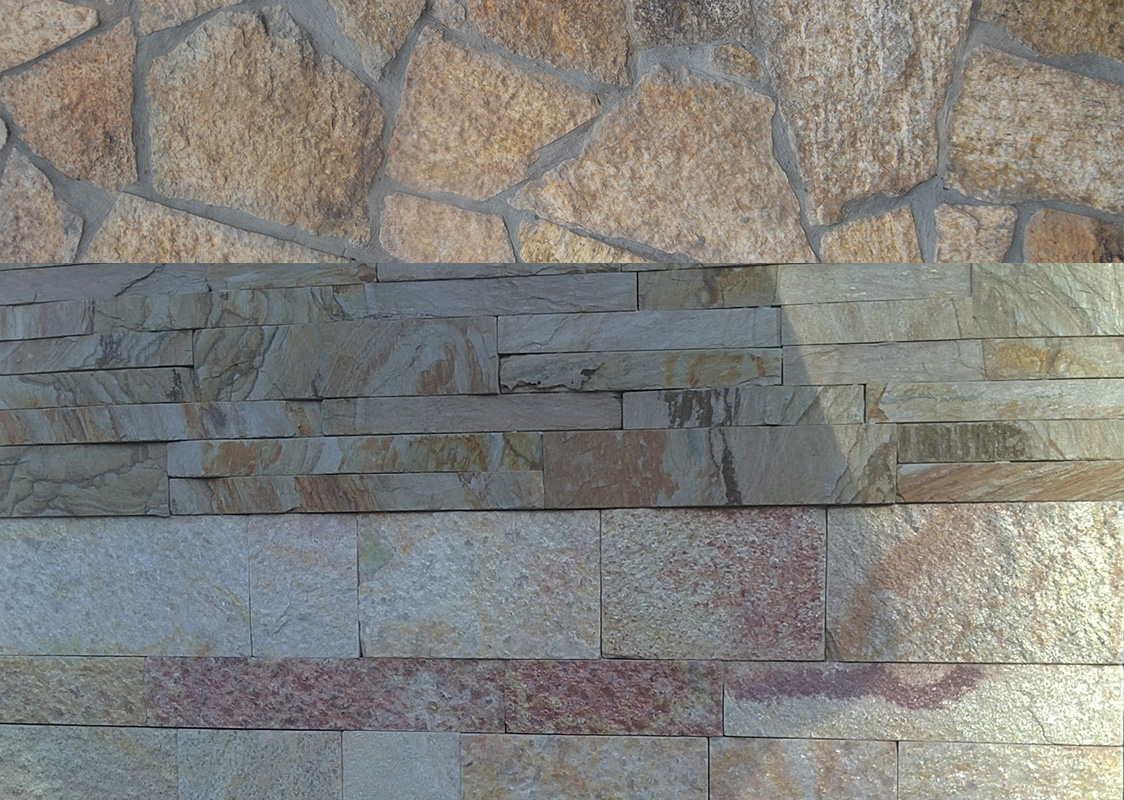 There are two ways of laying stone: seamless and with the seam.
Seamless technology involves joining the elements together, as in a mosaic. Laying with the grouting of the seams, the stones are laid with a gap of 1-2 cm with respect to each other, the resulting gaps (joints) are filled with glue-grout, sometimes of contrasting colors for a decorative effect. The need for grouting depends on the design idea.